Special issue 1

sekkisei "SAVE the BLUE" Project

Okinawa's coral reef boasts one of the world's most beautiful but is threatenedwith extinction due to the effects of global warming. Kose started the "SAVE theBLUE" project in the summer of 2009 to connect the beautiful blue earth to thefuture. We donate a portion of the sales of the representative skin care brand"Yukiseki", which is widely used by many customers in Japan and overseas, andengage in various environmental conservation and educational activities. In thename of the project, the desire to connect the "beautiful sea" associated withthe "Ruri" color of the bottle that symbolizes the brand to the next generation isincluded.
"SAVE the BLUE" project celebrating its 12th year
The "SAVE the BLUE" project, which has been ongoing since 2009, has reached its 12th year in 2020. We have carried out various activities to protect the global environment and raise awareness among people.
For the global environment
We have been expanding our activities in Asian countries since 2011. In 2018, we expanded the number of bases by 5, and expanded to 10 countries and regions (China, Taiwan, Hong Kong, Korea, Thailand, Singapore, Malaysia, Indonesia, the United States, and Japan).
Introduction of activities in Japan and overseas
The sea and the forest are healthy
We express our contribution to the SDGs advocated by the United Nations, and through the "SAVE the BLUE" project, we are working mainly to contribute to "protect the richness of the14 seas". From fiscal 2018, we will evolve this project into an activity to protect the blue earth and start a new forest conservation activity in the winter, aiming to contribute to "let'sprotect the richness of 15 lands."
By maintaining and managing satoyama, which has a rich ecosystem, we aim to maintain the natural environment in good condition, thereby preserving the marine environment connected by rivers. Thus we are leading every activity to our final goal of protecting the global environment.
Go to SEKKISEI SAVE the BLUE special site
KOSÉ's Initiatives To Date
As an official supporter*1 of the International Coral Reef Year 2018 undertaken by the Ministry of the Environment, we collaborated with the official supporter, the Mainichi Shimbun, to provide " 'SAVE the BLUE Monogatari' impressions and impressions for elementary school students and parents nationwide. And go to study abroad for coral!"
1 International Coral Reef Year 2018 (on the Ministry of the Environment website)
SEKKISEI SAVE the BLUE Story (JP)
"The Earth Becomes Beautiful When You Become Beautiful"
The "SAVE the BLUE" project in Japan supports the preservation of corals, which are important homes for a variety of marine life and also have the function of absorbing carbon dioxide, which causes global warming. Coral reefs in the sea near Okinawa have been greatly reduced in recent years due to bleaching phenomena due to global warming and theoccurrence of starfish. Kose has donated 17,342 coral transplants over the past 11 years.In overseas activities, we take a variety of measures based on the environmental conservation activities required for each region.
"Expand the Coral Reefs in Okinawa" Project: Activities and Achievements in Japan
Sekkisei "SAVE the BLUE" Project (2019)
In 2019, again, KOSÉ donated a coral planting fund to plant corals for the area equivalent to the base area of selected Sekkisei products bought by customers during the summer campaign.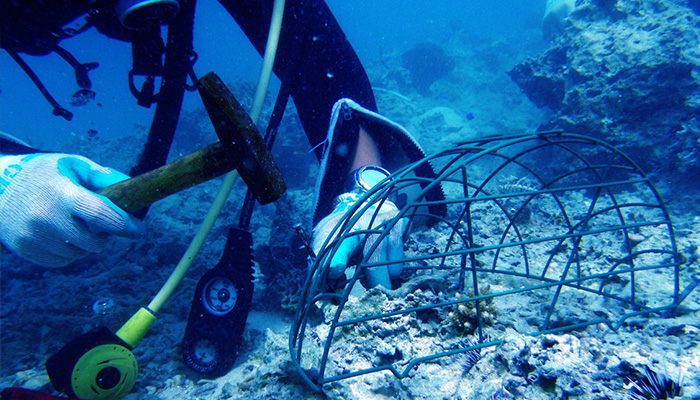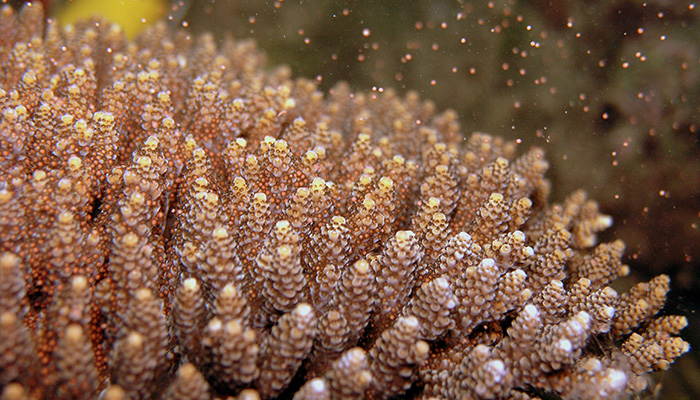 Campaign Period

July 1 – August 31, 2019

Campaign Products

Sekkisei Series Lotion and Emulsion

〈Sekkisei, Sekkisei Enriched, Supreme, Excellent〉 *Except for Mini-size

Sekkisei White Washing Cream
Sekkisei Herbal Gel (including Refills)
Sekkisei MYV series Moisturizing Lotion

〈Sekkisei MYV Concentrate lotion, Sekkise MYV Actirise Lotion〉

Sekkisei MYV cyclator
Since 2009 when the project started, the coral reef area around Okinawa has been steadily expanding.
Year
Planted Area
Planted Number
2019年
8,436,805cm2
375m2 approx. 2.2x of 25 meter pool
1,383
2018
9,265,908cm2
375m2 approx. 2.5x of 25 meter pool
1,519
2017
11,532,788cm2
375m2 approx. 3x of 25 meter pool
1,890
2016
12,381,546cm2
375m2 approx. 3.3x of 25 meter pool
2,030
2015
13,041,094cm2
2,138
2014
11,230,216cm2
1,841
2013
11,769,657cm2
1,929
2012
7,810,856cm2
1,031
2011
7,819,100cm2
1,282
2010
6,789,944cm2
1,085
2009
5,158,912cm2
972
2009-2019 Accumulated Total
105,194,126cm2
375m2 approx. 28x of 25 meter pool
Accumulated number reaches to 17,342
Not all the coral plant is rooted.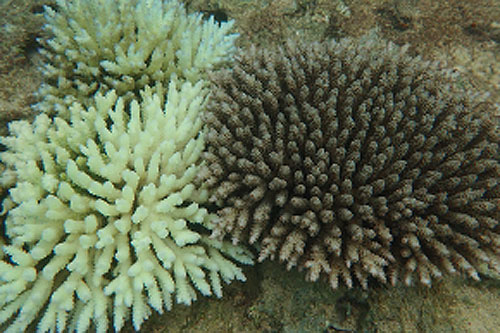 "Miracle Coral" Become the Subject of Wide Interest
Corals planted by the "SAVE the BLUE" project survived the bleaching that occurred around the world due to the raise in sea temperature in the Summer of 2016. It is assumed that they had resistance to ultraviolet rays and heat due to being nurtured in shallow waters.
According to data from SeaSeed, eggs spawned in the coral growing area flow to the Nago waters about thirty kilometers away, encouraging a success of the project. (Source:Research data from SeaSead)
to Sekkisei SAVE the BLUE Campaign page(japanese only)
Activities in Asian Countries
Japan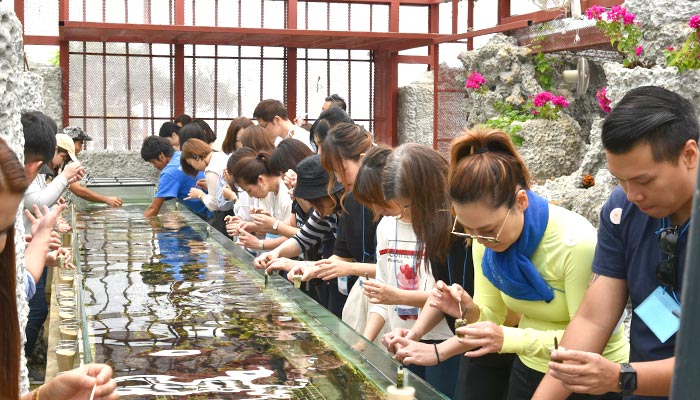 About 45 beauty consultant from around Japan participated in "Okinawa coral study trip" to learn the importance of environmental conservation in Okinawa since 2012. The participants also took part in Clean Pic to clean the coast in addition to separating corals. They also take on a role as Coral Ambassador to share their experience to colleagues and sales store to raise their environmental awareness.
"Clean Pic," a cleaning" sport to make our seas cleaner
In the "Coral Study" program, participants can even challenge an enjoyable "Clean Pic" every year as an environment cleaning sport.
Within a set time period, each team collects every kind of garbage that was washed up on shore and they are sorted out depending on the impact it gives to the environment.
One of the participants voiced out that "It's very surprising that there's a lot more garbage than we thought.".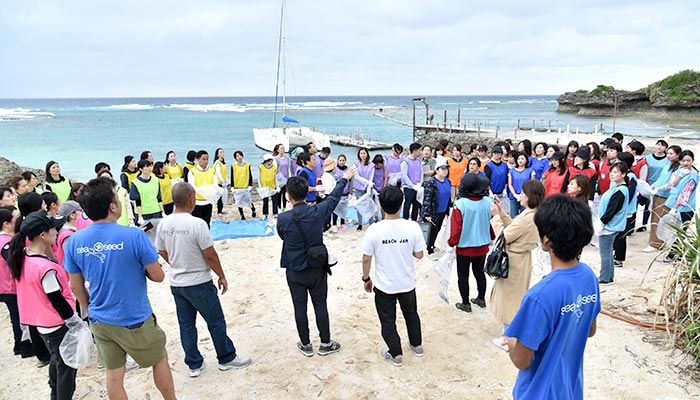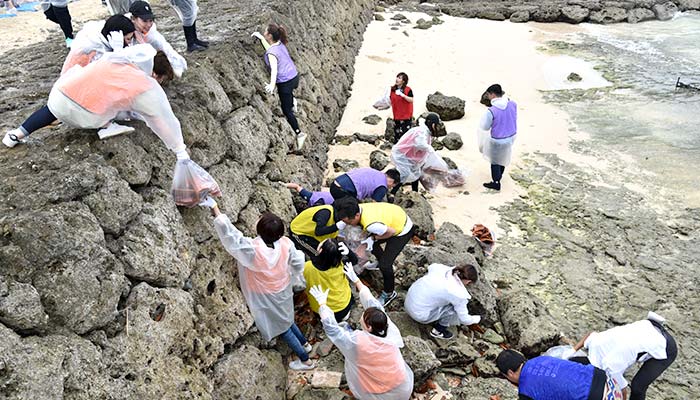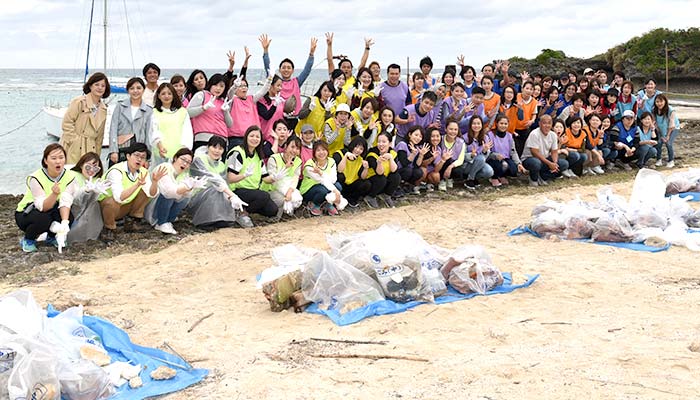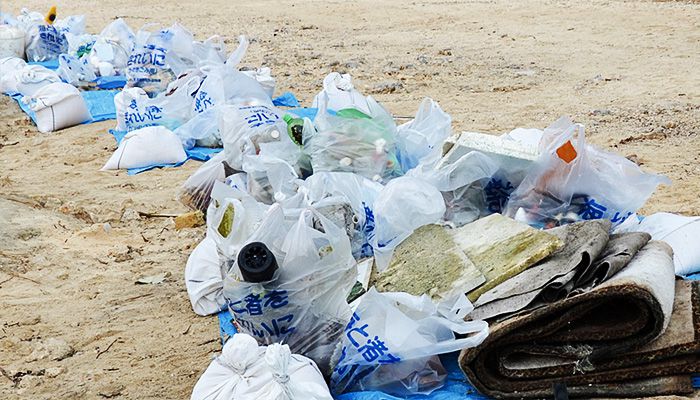 China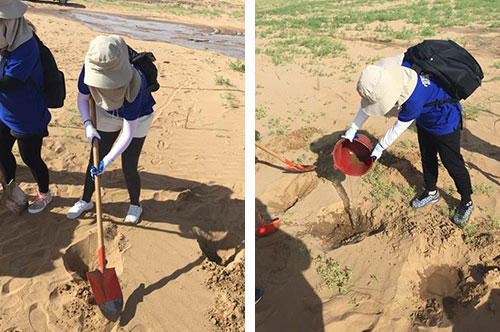 In China where the air pollution problem is getting worse, KOSÉ is supporting an Inner Mongolian Desert Afforestation project by Green Life, a non-governmental organization that is buying and planting trees for desert greening. Our tree-planting tour to a Mongolian desert for Sekkisei customers chosen by lot is very popular; we have planted about 144,000 trees in six years from 2012, contributing to the expansion of approximately 320,000 m2 of green areas. At the 2017 Green Life 15th anniversary ceremony, Kose's continued commitment was recognized for its Outstanding Contribution Award.
You can also see the Save the blue activity in China on this site.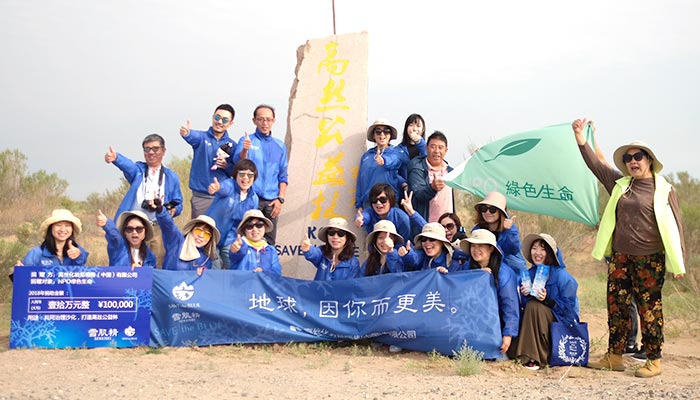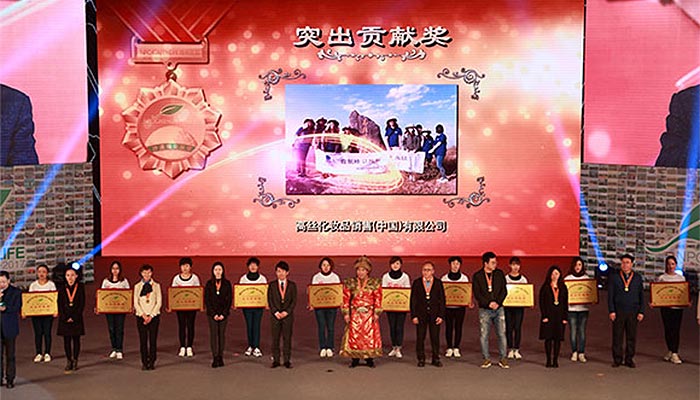 Thailand
We are cooperating with the environmental conservation activities of the Marine and Coastal Resources Research and Development Center of the Eastern Gulf of Thailand, which has been established by the Thai government to protect marine ecosystems. Planting coral in Ko Samet in 2016.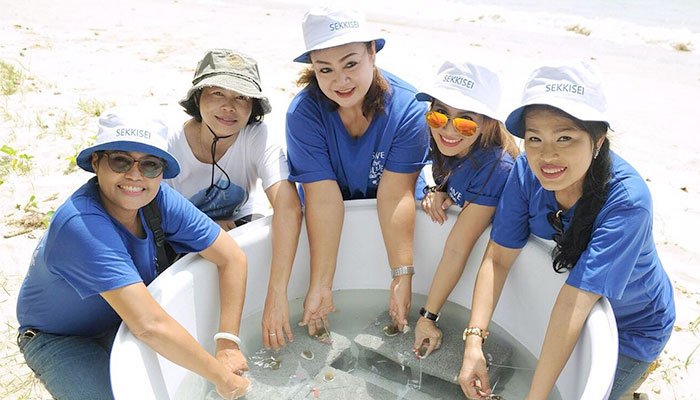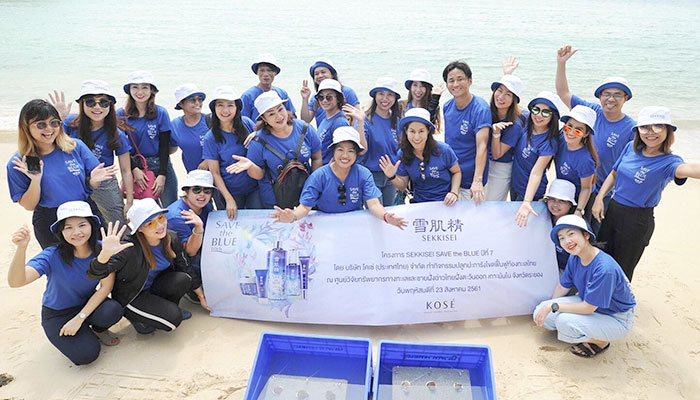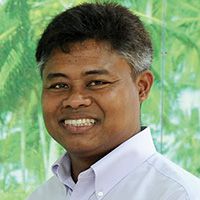 Director of Marine and coastal resources research and development center The eastern gulf of Thailand

Suthep Mr.Jearlaong
Sea turtle is a vital part of the marine ecological system and its extinction would have a tremendous negative impact on the marine flora and fauna. Decrease of the number of sea turtles is very serious; they will be extinct in near future unless some sort of measures are carried out. I am excited to share this opportunity with KOSÉ and support the activities to maintain the marine ecological system.
Taiwan
In the summer campaign of 2018, we cooperated with the Taiwan Environmental Information Association to protect the marine ecosystem by conducting beach cleanup activities to improve the environment once a month directly on the Suipu Sea and we support leaf check activities to check the health status. In the winter campaign, we co-sponsored the Taiwan Senri Pedestrian Association to protect the rich natural environment by developing a road "Eco Road" that takes into account the ecosystem from road surveys, planning, design, construction, and management. We will support increasing activities.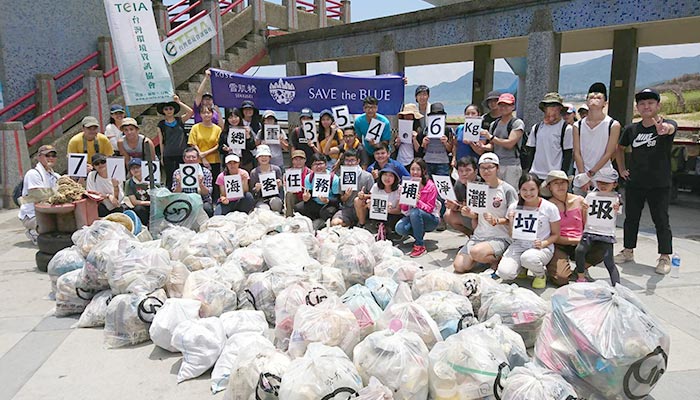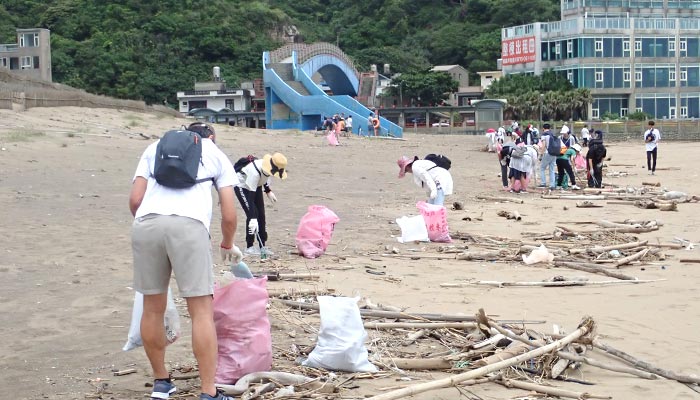 Singapore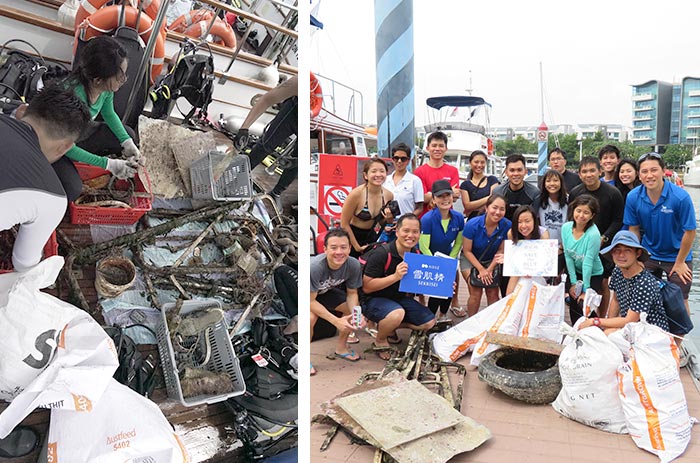 In support of our NGO, Our Singapore Reefs, we will support cleaning activities around the coral reefs on Sister's Island.
Malaysia
In Malaysia, 20,000 sea turtle eggs are overfished annually by poaching. In partnership withthe volunteer group Lang Tengah Turtle Watch Organization, we help protect against extinction by stopping sea turtle eggs from poaching.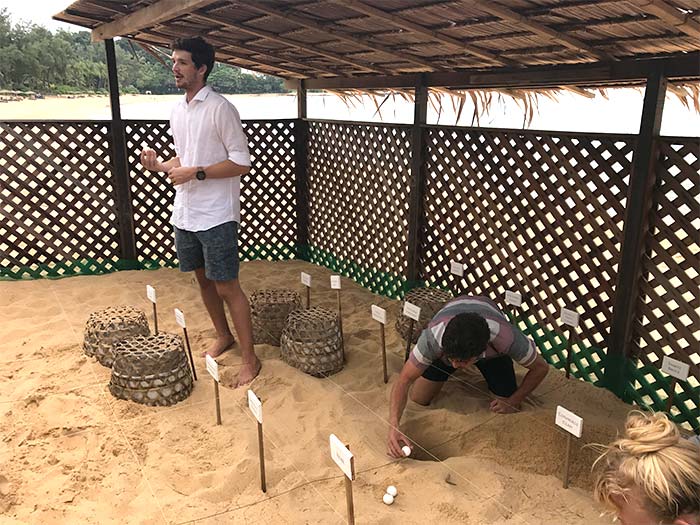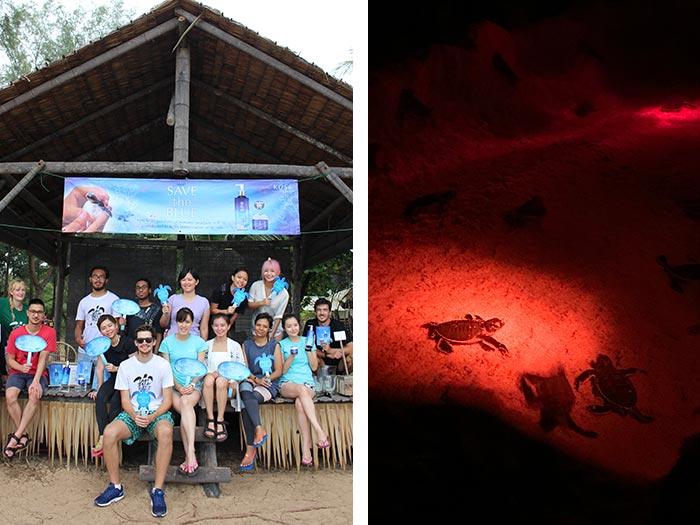 Hong Kong
We support NGOs that conduct forest conservation activities while cooperating with Japanese Okinawa coral transplantation activities
Korea
In order to purify the air, we will support the tree planting NGO tree tree, and support tree planting activities in Korea.
Indonesia
In support of the Environmental Committee of the Government of DKI Jakarta, we will support afforestation activities in Jakarta.
America
We will support the Coral Reef Alliance, an NGO, and donate a portion of theproceeds to support it. Fuel costs for patrol boats to combat illegal fishermen inRoatan Marine Park in Honduras, vegetation planting activities in West Maui,water quality monitoring, in the Namena Marine Reserve in Fiji It will be used forvarious coral reef ecosystem conservation activities, such as support for fishingactivities that take into account coral reef conservation.