〔The Environment〕

For the Global Environment
Efforts at offices, logistics operations, and shops
The KOSÉ Group is actively working on environmental protection activities, even outside of the Production department. Besides the Logistics department which is deeply connected with the environment, other business functions and the Sales department are also engaged in relevant activities.
Promotion of the streamlining of logistics processes
Our distribution system used to be handled by six distribution centers across the country, but since 2011 we have been outsourcing our distribution function to Hitachi Transport System and Hitachi Collabonext Transport System. Not only does this dramatically decrease our environmental load, it increases management efficiency, improves the quality of our distribution operations, and gives other such benefits that help us adapt to ever changing logistics needs more efficiently. We are also promoting joint deliveries with industry peers to further accelerate the CO2 reduction through aggregating transportation vehicles.
Use of LED lighting for sales display fixtures
Cosmetics sections at drugstores and mass retailers use display fixtures to display product samples along with products for sale so that customers can select a product suitable for them. We used LED lighting instead of fluorescent lights for the first time for the display fixture for Visée, one of our makeup brands. Since then, we have been increasing the use of LED lighting for display shelves as LED lights not only have a long life but also significantly reduce electricity consumption, thereby contributing to energy saving. We will continue to increase the use of LED illumination as much as possible.
Discontinued use of boxes for delivery of sample products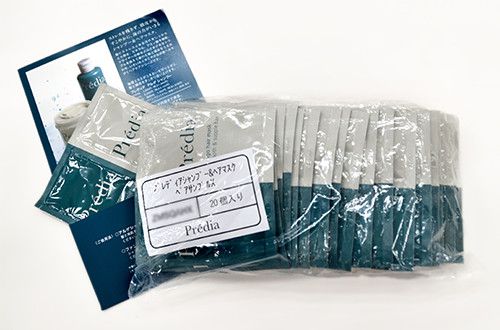 KOSÉ offers various kinds of sample products so that customers can try them out to see if a particular product is suitable for their skin or gives the expected feeling of use. In the past, to deliver samples to each store, we put a set of 20 or 50 sample products in one paper box along with cardboard bases on which product information is printed. In fiscal 2009, we replaced this paper box, which was used mainly for transportation purposes, with a plastic bag. This has helped reduce the amount of waste about one-fifth of the previous amount and the distribution quantity about one- third.
Adoption of eco-friendly vehicles
At KOSÉ Group, sales persons use company cars to visit customer site. CO2 emissions from sales vehicles of KOSÉ Corporation, KOSÉ Cosmeport, and Albion, in fiscal 2019 were 1,917 tons, a 4.9% reduction from the previous year. We are constantly switching company cars to more environment-friendly vehicles including hybrid cars. We aim to reduce 1,285 tons of CO2 emission in five years from 2016 through these initiatives.
Energy saving at offices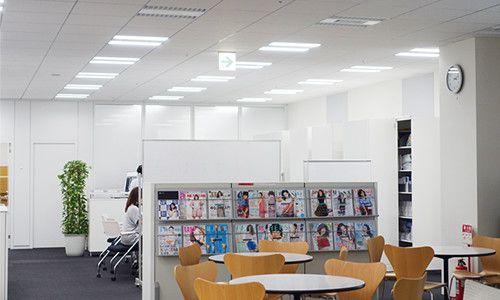 In order to save energy in the office, we are promoting an enterprise-wide initiative to control the air conditioning temperature, wear "cool biz," turn the lights off when there's nobody in meeting rooms or the pantry, and shut down PCs when leaving the office.
In the KOSÉ head office, there is a rule for employees to turn the light only for his/her working area on when he/she comes to the office in the morning. The lights will automatically go off when the motion sensor detects no one around the area, eliminating the cost incurred when an employee forgot to turn them off. In addition, PC monitors are set to go off when the idling time exceeds ten minutes.