〔Labor practices〕

Together with our employees
Developing human resources and creating an environment in which they can play an active role
Our philosophy of existence is "to create unique and beautiful values and culture by integrating wisdom and sensitivity. In order to create "beautiful" value for each and every customer and to become a "company with a global presence," human resource development is one of the most important management foundations. Innovation cannot be realized without the power of human resources. For this reason, we believe it is necessary to create an environment in which diverse human resources can fully demonstrate their abilities.
Personnel Development and Creating Innovation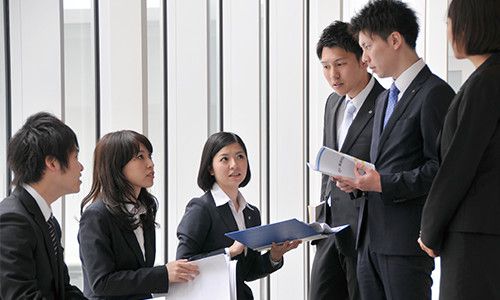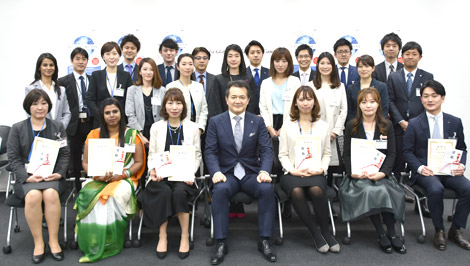 KOSÉ encourages employees to learn and grow independently by making the most out of their diversity while sharing our common missions and goals at the same time. A range of training systems, online class allowance, and educational fund plans are available to support employees' growth. In addition to "Personnel development training" that is held regularly for employees from on-boarding until he/she reaches the age of 30 and "Skill building training" to develop leaders, on-the-job-trainings that meet the needs of each department are held to drive personnel development.We also hold cross-departmental, project-style training classes to discuss and define new values we can provide through cosmetic products to create innovation with diversity and inclusion.
Nurturing Innovative Corporate Culture
We have been holding a contest once every two years on new product idea to utilize employees' diverse ideas in business since 2008. In 2018, we received 650 entries both from inside/outside Japan. We will evaluate and utilize them in the future product and service development.
We have integrated our "Link" program* with "Accelerator Program." Link is an innovation-creation program to redefine and generate a new value of beauty. Now the program is a part of ourmechanism to nurture enthusiasm and challenging spirit of employees. With the support of the program, picked employees who are expected to be the next generation leaders, for example, are collaborating with start-ups as marketing producers to operationalize their business.
Link(Leadership and Innovation program for New KOSÉ) is an internal venture program started in 2017.
Human Resource Development Program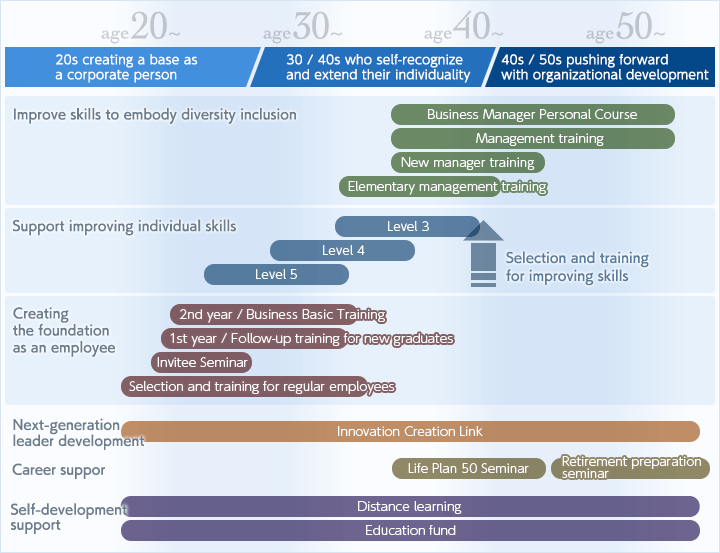 Promotion of education and awareness about human rights and diversity management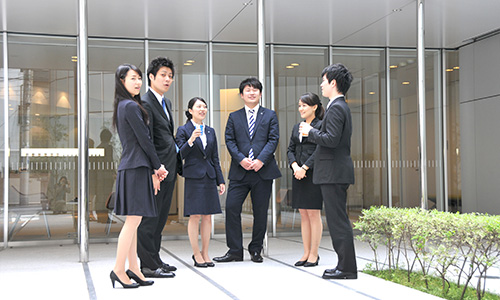 Creating a healthy work environment is important for the growth of the company and to the employees who are the source of our competitive edge.
As a cosmetics company, the KOSÉ Group promotes human rights awareness, education, and diversity management with the aim of fostering a work environment in which women play active roles in human resources and their diverse personalities and abilities can flourish.
The "KOSÉ Human Rights Policy" and "KOSÉ Group Action Guidelines" stipulates respect for the human rights of every individual, and does not engage in any activities that lead to discrimination. We promote awareness and understanding in the workplace, and strive to create a healthy work environment that respects diversity.
Consideration for working environment and work-life balance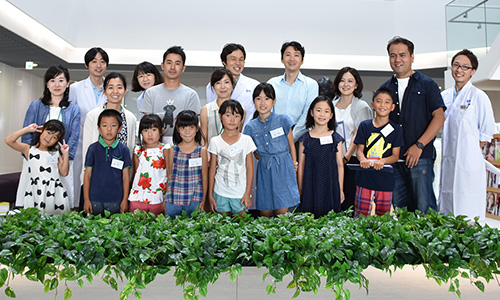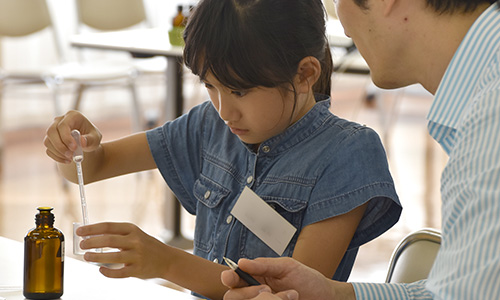 We strive to harmonize work and life, promote the health of employees, and work to improve and enhance a more rewarding employment environment.
Reduction of long working hours
In addition to accurately grasping the working hours of employees, we are working to optimize working hours by setting overtime reduction targets.
In addition, in accordance with the laws of each business site, for example, domestic business sites and affiliated companies have concluded labor-management consultations on overtime work for each business site and have notified the relevant administrative authorities. The conclusion of the labor-management agreement is based not only on legal restrictions on working hours, but also on administrative guidelines on the risk of long working hours.
For health promotion
In addition to the thorough management of employees' regular health checkups, we provide guidance on health management by occupational physicians and public health nurses according to the results of the checkups and actual working conditions.
Work-life balance
We have introduced various systems to balance work and family, such as childcare and nursing care leave and shortened working hours, so that employees can work in ways that respond to employees' life events. In Kose and Kose Cosmetics Sales, 100% of employees who have finished maternity leave have taken childcare leave, and over 90% have since returned to work.
We are working to create an environment where all employees can demonstrate their abilities, including initiatives to promote the advancement of women and the introduction of a system that allows employees with childcare and nursing care to work with peace of mind.
Promoting the Health of Our Employees
Thinking about the health management of employees from a management perspective and implementing policy strategically will lead to an increase in company productivity, which is an investment that will increase profitability in the future. Consequently, the idea of "health management" has been advocated. In support of this, the KOSÉ Group has established a 24-hour health consultation and mental health consultation desk outside of the company. We have set up a work environment for employees, especially during work hours that includes consultations with physicians and public health nurses. The company has established a mental and physical support system and is promoting health management measures to maintain and encourage overall well-being. The Ministry of Economy, Trade, and Industry and the Japan Health Council have named our companies as "Excellent Health Management Corporations of 2020″.
For Improving the Technical Skills of Beauty Consultants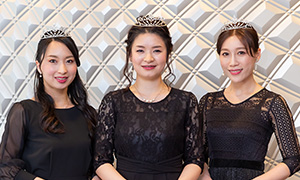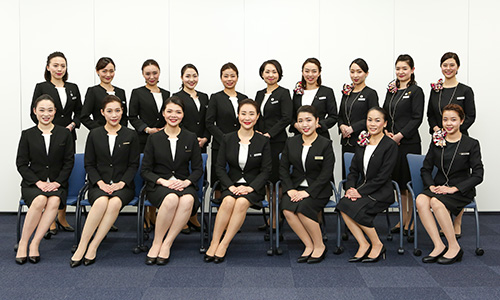 Beauty Consultants who interact with the customers are responsible in adding further value to our cosmetics in addition to the mastery and knowledge of their skills. And from 2015 onwards, we introduced a "Makeup Lesson Certification Test" approved by the Ministry of Health, Labour and Welfare. This certification contributed to the improvement of the skills and awareness of Beauty Consultants.
Back in 1975, there was a national contest where the beauticians who acquired their skills from their everyday work at the store all gather in one place to compete with their makeup skills and customer service. And from 2011 onwards, it expanded overseas as the "Global EMB Contest." And in 2018, 17 members who won the domestic and international final selections competed with their skills.
* The contest for 2019 has been canceled due to the new coronavirus infection.
About the Makeup Lesson Certification Test
In order to improve customer satisfaction, we introduced the "KOSÉ Makeup Lesson Certification Test" approved by the Ministry of Health, Labour and Welfare, as an in-house certification system for evaluating the skills of Beauty Consultants here at KOSÉ. The goal of this test is not only to evaluate the skill of providing advices to customers as a beautician but also the skill of educating the customers to make them apply makeup techniques by themselves. By ecudating our customers the "Appropriate makeup and application method" and helping them so that they can become more beautiful by themselves, the trust that our customers give to Beauty Consultants becomes stronger, which also leads to the development of the members. The "KOSÉ Makeup Lesson Certification Test" carried out the Second Grade test in 2015 and it launched the First Grade test from 2016.The Second Grade is based on the knowledge and skill of a beautician with more than four years of working experience as a baseline standard. The test includes a written exam, knowledge about the basics of makeup, technique, a wide range of knowledge including beauty care trends, communication, hospitality, beauty care, and skin. The First Grade is aimed for those who have passed the Second Grade. In this grade, they must have the knowledge about point makeup, color, tone, etc. and all other knowledge and skill as a high-level beautician. In addition, the skill of a beautician to teach a customer about the makeup application methods will be evaluated (half of the makeup on the customer will be done by the beautician and the other half will be done by the customer) in the "Makeup Lesson" practical test.
Through the "KOSÉ Makeup Lesson Certification Test" we are able to measure the knowledge and skills of the beauticians, standardize makeup application skill by using it as an institution, and aim to improve the skills, customer service and support.
The 8th Global EMB Contest Gran Prix Prize Winner
KOSÉ Japan / Nagano Branch

太田 美子 Oota Yoshiko
I am paying special attention to my customer's words and behavior to "feel" what she is thinking. We, as a beauty consultant, need to sympathize with customers and address their requirements, but without offering more excitementbeyond them, they won't enjoy our sincere care or come back again. I'm looking forward to helping more and more customers to redeem their beauty.