〔Consumer issues〕

Together with Customer
Satisfying Customers with the Finest Quality
Since establishment in 1946, our mission at KOSÉ Group has been to deliver with passion cosmetics and services of the finest quality to customers.
Being in the business of creating beauty, we strive to meet the customers' desire to stay beautiful and healthy by providing high-quality products and services, with safety as the top priority, to enrich each individual customer's lifestyle.
Continuing to Refine Quality
Since its foundation, KOSÉ has thoroughly upheld quality control, from procurement of raw materials to production, to make the best quality cosmetic products. In the KOSÉ Quality Policy established in 2010, a sentence "Customer satisfaction is our priority" was placed at the core of all operations, allowing us to pursue quality in a more vast and deeper sense.
KOSÉ Quality Policy
"Customer satisfaction is our priority."
KOSÉ offers good products with assured security and safety.
KOSÉ pursues attractive products and the highest quality.
KOSÉ provides accurate information to build relationships of trust with customers.
KOSÉ listens to customers and uses their opinions to improve its products.
KOSÉ complies with laws and regulations governing manufacturing and services.
Efforts to assure quality in new product development
The cosmetic products that come into direct contact with the hair and skin are used in many ways depending on the environment and the individual customer's preferences.To ensure that customers can use our products in any situation without worry, safety is kept at the highest priority in the development of new products. Toward this purpose, we refer to all sorts of quality standards in addition to our own safety standards. In every step of production from the raw materials stage to packaging, our Quality Assurance and Product Development departments repeatedly conduct assessment and validation of products. Additionally, we enforce a rigorous test on final products that anticipates the customer's usage situation, ensuring their safety for use before sending them out into the market.
Quality assurance in the development process of new products sold by the KOSÉ Group
Organizational Structure to Respond to Customer Feedback Swiftly and Earnestly
KOSÉ has established a tight-knit cooperative network related to quality assurance by installing a Customer Service Center in our Quality Assurance Department in an effort to provide rapid and sincere support to our customers.
Customer requests and reports are filed as valuable information into the Smile Data System. These assets are shared speedily within the company to improve quality and service, by which we aim towards gaining further customer satisfaction and trust. Furthermore, we at KOSÉ Group believe that our relationship with our customers begins from the moment we manufacture our products.For this reason, cosmetic products of the same type manufactured at the same time are all stored and constantly checked for safety of use, while steps are continually taken to guarantee their quality.
KOSÉ Group – Organizational Structure for Quality Assurance
Response to Unforeseen Incidents
In the event that an accident or unexpected trouble causes quality issues and results in any product liability incident, information regarding the incident is automatically gathered from all departments and reported to the Quality Assurance Department. The Quality Assurance Department then defines the severity of the incident in terms of product liability, hazards to health, and potential expansion of the damage. Serious quality issues are immediately reported to the Emergency Counterplan Committee, and appropriate measures shall be taken on a corporate-wide level, beginning from top management, in response to the incident.
Our Policy on Assuring Safety of Cosmetics
The quality demanded in cosmetic products often changes due to customer needs, advancements in science and technology, market factors, social environment, and so forth. The KOSÉ Group, in an attempt to anticipate such changes and realize this product quality, participates proactively in the ISO (International Organization for Standardization) Technical Committee for cosmetics, and in Public scientific research groups into developing new testing procedures for safety assessment.
With safety as a top priority, KOSÉ Group designs and develops cosmetic products (including quasi drugs) based on a policy for eliminating animal testing*.
We eliminate animal testing by utilizing a vast amount of safety data accumulated from our years of research and development activities. We have set unique safety criteria to ensure safety by taking advantages of alternative testing methods and human clinical studies.
*Except for cases where accountability for safety is demanded socially or requested by governmental authority/regulators.
Furthermore, KOSÉ understands that the abolition of animal testing is a necessity in global society and, hoping for its swift implementation on a worldwide scale, has been deeply involved in the development of alternatives to animal testing since the 1990s. Along with continuous support of the Japanese Society for Alternatives to Animal Experiments, KOSÉ endeavors by participation in the cooperative efforts among industry, academe, and government, to spread and develop these alternative methods.
For more information on safety assurance (R&D)
Responding to and exceeding customer expectations
One-Class Higher Beauty For All Customers. Exciting Experience to Be Beautiful. – Beauty Consultants –
Our Beauty Consultants are the cornerstone of contact with our customers to provide the deepest sense of satisfaction in our customers. We understand that every trouble and the goal of beauty is unique by customer, so we present cosmetic products and ways of applying makeup that are best suited to each customer's needs. For this purpose, our staff are trained in customer service, knowledge in cosmetics, makeup techniques and the like, and greet customers daily with a heartfelt smile.
Starting 1976, KOSÉ has held contests in the fields of makeup techniques and customer care in beauty salons for Beauty Consultants all over Japan, which have since gone global.
From the slogan "Meet the customer's expectations, and go beyond," the term EMB (Expectation Meet Beyond) was coined, and in KOSÉ, is the goal for every Beauty Consultants.
Honest support system for customers' demands – Customer Service Center –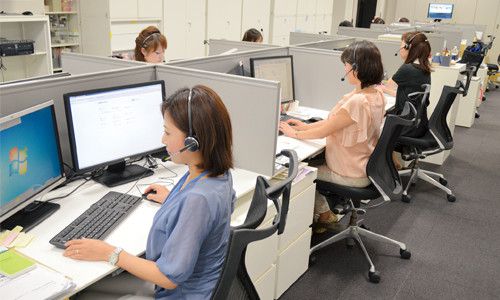 KOSÉ has established a tight-knit cooperative network related to quality assurance by installing a Customer Service Center in our Quality Assurance Department in an effort to provide rapid and sincere support to our customers. We are sincere in the services we offer as a foundation of "attentive listening," "empathy," "promptness," and "trust" for the inquires and feedback we receive. We endeavor to improve our adaptability through the implementation of training and satisfaction surveys. In addition, we actively share and use product knowledge (various information and assumed dialogue related to products and promotions) even across other departments.
System to gather opinions from an extensive range of customers in order to incorporate them in products and services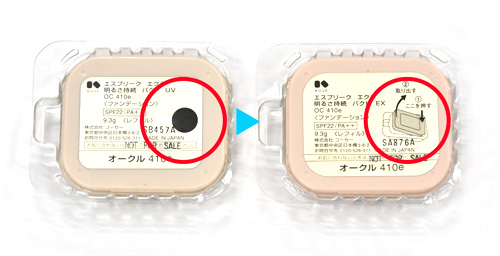 Customer feedbacks are collected and incorporated into the Smile Data System. The system generates a report from the accumulated data in regular basis as a "Customer Feedback" Report, distributes the report to relevant functions to enable improvement of products and services. One relatively common inquiry, for example, is an inquiry about the features and usage of a product. For these inquiries we are not only providing relevant information to the customers but also making a number of enhancements on products such as an easy-to-understand display on the package.
Here is an example: We provide powder foundation refill in a transparent plastic-reduced container to protect the product. Feedbacks revealed that the direction on the package insert saying "You can take the product out from the container by pushing ● mark" is unnoticeable and unable to take it out. So from the updated version of ESPRIQUE Eclat we put an illustration on the backside of the container to make it clearer and easier to understand.
Easy-to-Use Products for all
We at KOSÉ work towards providing easy-to-use items for everyone whenever we develop new products.
We have also made provisions for customers who are visually impaired to be able to identify products by touch.
Braille stickers available for free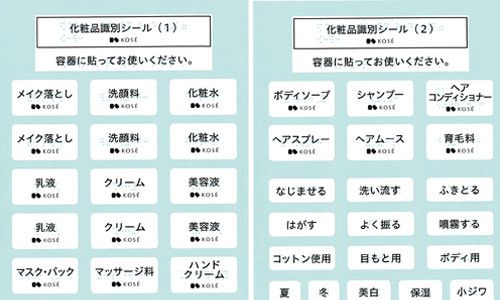 Visually impaired customers may avail of, without charge, "Braille stickers," on which the names of cosmetic products and instructions for use are printed in Braille and large-font characters. These stickers can be placed on the containers of individual products. Please contact the KOSÉ Customer Service Center to have the stickers on your purchases.
(Toll-free number:0120-526-311)
(For requests by e-mail, kindly click here)
Commitment to Universal Design
With the concept of delivering a "more kindhearted beauty," KOSÉ Cosmeport Corporation has been putting effort into a universal design to allow customers to use its products more easily and safely. Among these is the addition of Braille characters and embossed lettering on caps and outer packaging, and design that is color-friendly for visually impaired customers. Such designs are being used for our major brands, including Softymo, Salon Style, Moisture Mild, and Sun-Cut.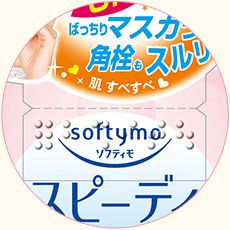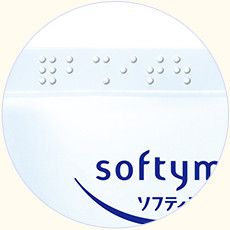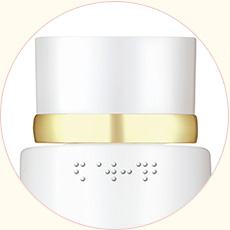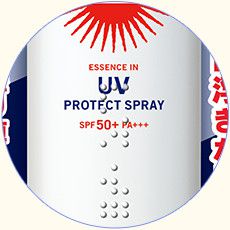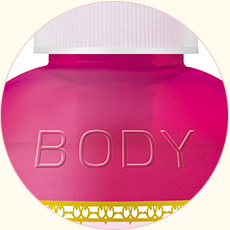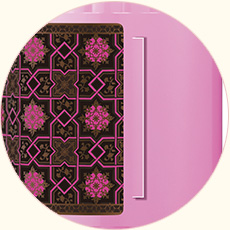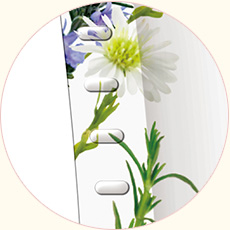 Making Products "Color Barrier-Free"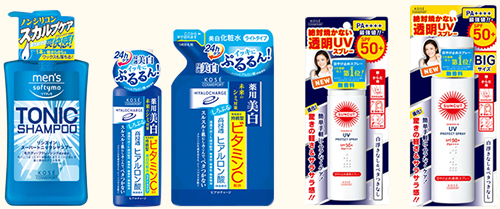 An example of the universal design implemented by the KOSÉ Cosmeport Corporation would be its "color barrier-free" products, designed for customers with different senses of color, which won the Accessible Design Packaging Award in the 2009 Japan Packaging Contest.
For more information about KOSÉ Cosmeport's initiatives, click here