To offer the best possible cosmetic products
Kozaburo Kobayashi, who founded KOSÉ in 1946, poured his limitless passion into making cosmetics that would let people dream and give them hope. He committed KOSÉ to making quality products that truly exceeded the expectations of each customer. This spirit lives on in all facets of our business today, from our persistent pursuit of quality to our unique brand marketing strategy. Research and development play a particularly important role as a driving force for the development of KOSÉ.
Skin care research
Dermatology research to ensure the achievement of positive effects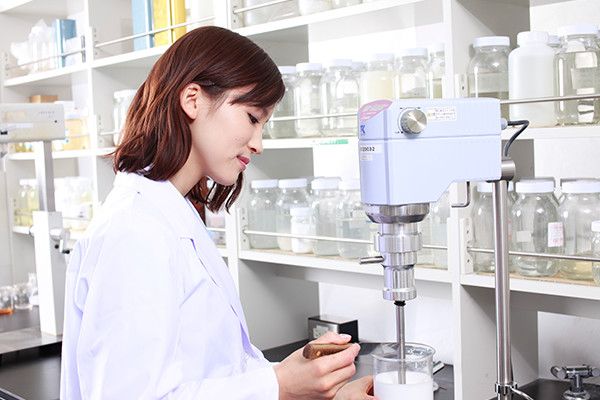 The primary objective of skin care cosmetics is to make the skin beautiful, fresh and healthy and give it luster and suppleness. In the development of cosmetic formulations, emphasis is placed not only on highly positive effects on the skin but also safe and comfortable feeling of use.
Skin care products are basically developed using emulsification, solubilization and dispersion techniques based on colloid and interface science. KOSÉ additionally employs dermatological research to develop cosmetic products with better skin care effects.
Moisture-retention properties are the fundamental properties of skin care products. KOSÉ applies techniques to stabilize mixtures of ingredients effective in whitening, reducing wrinkles, and treating other skin problems as well as techniques to deliver the ingredients in such a way as to maximize their efficacy. With these techniques, we supply markets with products that have efficacies and effects that satisfy users.
Hair care research
Achievement of smoothness to the touch based on instrumental analytical data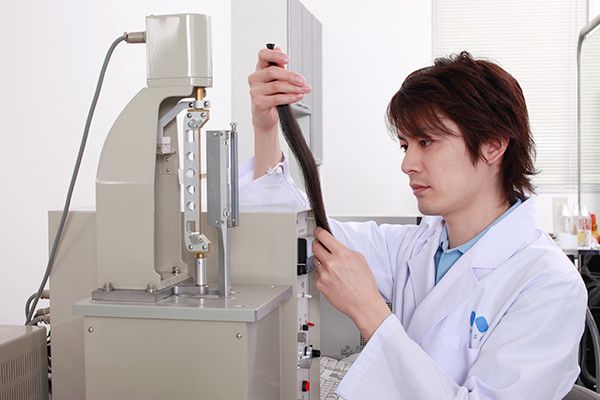 Typical examples of hair care cosmetic products include shampoos and conditioners. KOSÉ develops various kinds of products to solve scalp and hair problems in order to make hair more beautiful. We engage in original research and development, including the development of a device to evaluate the hair condition. Through these research and development efforts, we have launched many hair care products highly appreciated by customers.
Particularly in developing new conditioning ingredients, we accurately identify efficacies and effects using our own evaluation method to realize highly useful products. Recently, for example, we have developed a new delivery system to deliver hair internal lipid cholesterol, a naturally occurring substance that decreases due to aging and damage, into the hair. We have already applied this system to develop new products.
Eye and lip makeup research
Creation of new beauty by pursuing functionality and sensuousness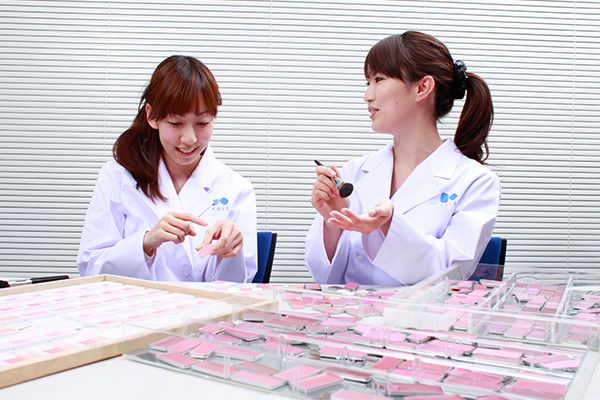 Various kinds of makeup products for various purposes are available on the market. Due to a large number of formulas, research into makeup products involves a wide range of disciplines. In addition to cutting-edge organic chemistry, inorganic chemistry and physical chemistry, we integrate color science and cosmetic psychology to pursue better functionality and sensuousness.
To improve functionality, material development is important. We have produced an oil solution with high water-holding properties, which improves the moist feeling of lipsticks, and a film-forming agent that improves the curling effect of mascara. Eye and lip makeup products play an important role not only in terms of functionality but also in terms of coloring for enhancing individual attractiveness. In developing lipsticks and eye shadows as well as manicure products, we select the best colors from hundreds of different options, taking into account fashion trends and the impression created by each color.
Base makeup research
Ideal skin through cutting-edge technology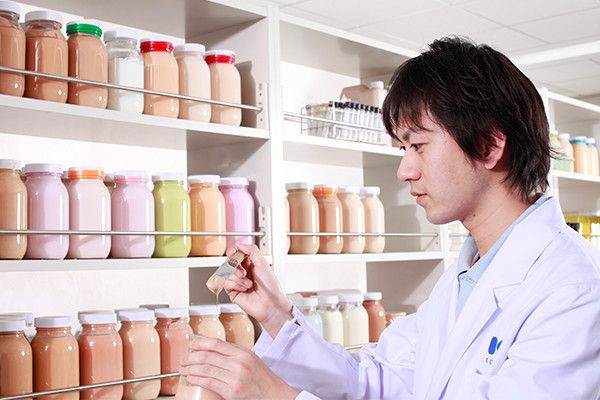 Base makeup products, such as makeup bases and foundations that are applied to the entire face, have two roles: one (cosmetic) is to make the skin look more beautiful and the other (skin care) is to protect the skin from ultraviolet rays and dryness. Particularly for foundations, in addition to a beautiful finish and long-lasting cosmetic effects, good feeling of use is also important. KOSÉ has developed many industry-first innovative foundations, ranging from powder and two-way types to a 70% water solid type that has a cooling sensation.
Even when the same raw materials are used, the finish of base makeup items can differ significantly according to the type of oil solution that is used to coat powder particles and the order in which the ingredients are mixed. Therefore, we use both cutting-edge technology and materials effectively and make the most of our detailed expertise accumulated over years.
Perfume research
Research on psychological effects of perfumes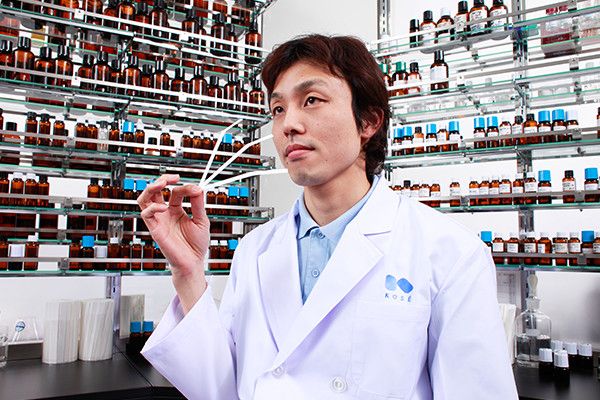 Researching perfumes is a highly artistic and creative activity. KOSÉ places emphasis on combining such artistic approach with a scientific and objective approach in its research into perfumes. Our aim is not only to develop perfume products for commercialization but also to use perfumes to convey the concept of individual cosmetic products. This is because perfumes are one of the most important elements to make customers feel satisfied and comfortable.
Perfumes are created using some 2,000 kinds of perfume materials with the latest market trends taken into account. Regarding the psychological effects of perfumes as an important factor, we have recently been engaged in basic research to expand the potential of perfumes. For example, we have been conducting research into perfumes that promote relaxation and high-quality sleep as well as researching how to use perfumes to improve skin care effects.
Beauty research
Establishment of effective use and the theory of beauty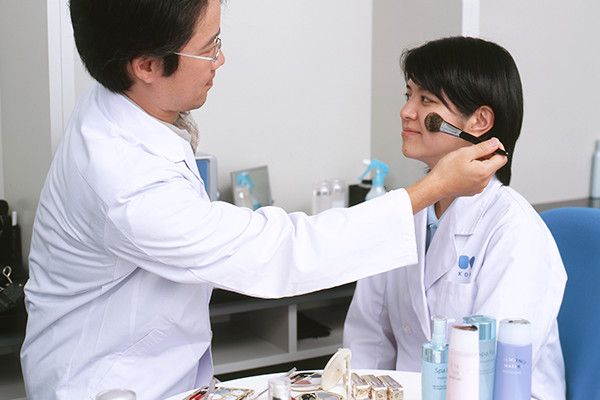 There are a variety of cosmetic product items, each of which has different functions, efficacies and effects. To deliver products with maximized functions and effects that satisfy customers, an evaluation study should be performed to confirm that a cosmetic product that we have developed has values that sufficiently meet the requirements needed to launch it onto the market. This is a very important study and evaluations are made from various aspects, such as functionality, usability and the level of satisfaction.
Another objective of beauty research is to create more attractive and valuable cosmetics by identifying ways to maintain beauty through gathering and analyzing needs and cosmetics data. We also conduct studies on the theory of beauty, including the effective use of cosmetics and makeup techniques, psychological effects of cosmetics, and sensory impacts of colors, smells and package designs. Information that has been obtained through these studies and that is valuable to customers has been made widely available by various means.
Dermatology research
Elucidation of excellent functions of the skin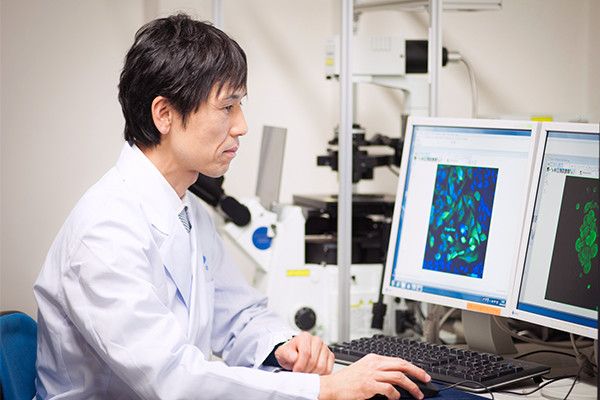 In the research and development of cosmetics, which are applied directly to the skin, it is necessary to understand the detailed structure of the skin by studying its functions. Results from research into the detailed structure and functions of the skin and on its behavior in response to external stimuli including UV rays have contributed not only to the development of cosmetics but also the advancement of dermatology. To achieve the beauty desired by customers, we will further promote dermatological research in such a way as to make use of the results obtained in the development of useful cosmetics.
We also conduct research to identify the causes of changes that occur on the skin by measuring skin's water-retention properties and barrier function, mechanical properties such as elasticity, and minute contours of the skin's surface from different aspects using a state-of-the-art skin measuring device. Based on the results of our research on the efficacies and effects of cosmetics to understand how they improve the skin, we develop cosmetics suitable for preventing and treating skin problems.
Pharmaceutical development research
To protect and act on the skin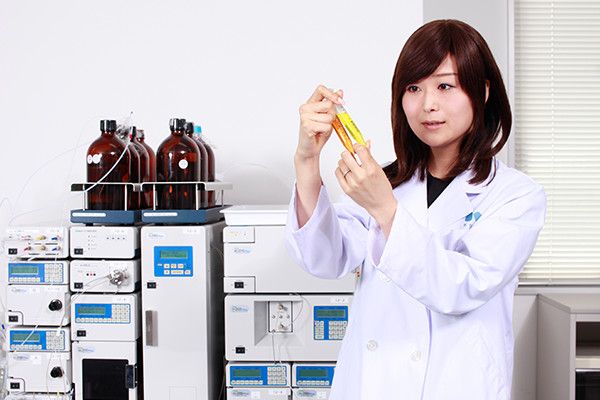 Age spots and freckles, common concerns for many people, are caused by an overproduction of melanin resulting from an increase in pigment cells called melanocytes. KOSÉ has been engaged in research to elucidate various mechanisms that underlie the activation of melanocytes.
Wrinkles are another major concern. KOSÉ found more than 20 year ago that reactive oxygen species (ROS) are major contributors to skin aging, including wrinkles, and has since been engaged in studying them. ROS are highly reactive molecules and are known to be generated from exposure to ultraviolet radiation in the skin. They damage collagen and elastin, which are components of epidermal and dermal cells, causing wrinkles. We have developed many agents that inhibit the generation of ROS and will focus more efforts on applied research to develop more effective agents and cosmetic products.
Material developmental research
Development of new and original materials with high functionality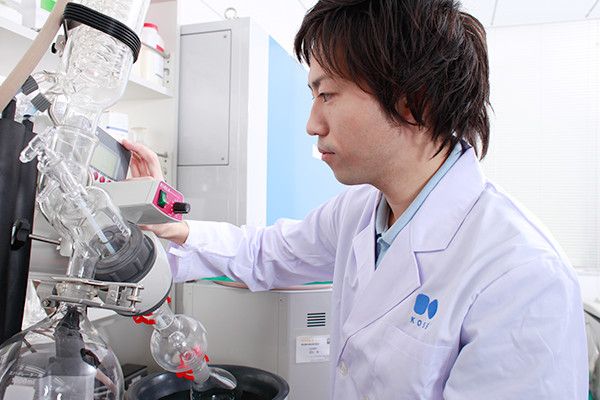 We believe it is important to first develop materials in order to develop cosmetics that deliver the functions, effects and feeling of use demanded by customers and even exceed their expectations. KOSÉ has developed many agents and materials, including a drug that prevents age spots, a material to produce glossy lipsticks, and a nail enamel material with oxygen permeability. These materials have been applied to develop highly original products.
One of such materials is a film-forming agent that has high water resistant properties. It makes the sunblock effects of "sun-cut" cosmetics and the makeup effects of liquid foundations last longer. We have also developed powder that can control optical properties by changing the component and shape. This powder is used for cosmetics that can make the skin look beautiful by making age spots and wrinkles less noticeable.
With the highest priority on making customers feel excited and pleased by maintaining the health and beauty of their skin through the application of materials that we have originally developed, we will continue our efforts to develop highly useful and functional materials.