Medium-term Management Plan
The KOSÉ Group has newly defined its long-/medium- term enterprise vision "VISION2026" to enter yet another new growth stage for the upcoming 80 th anniversary of the foundation.
With the enterprise management goals of JPY500 billion sales revenue and the operating margin of 16% or more, we have set a phased roadmap to achieve the goals. The roadmap consists of three phases to evolve into an enterprise with a strong global presence: Upgrade global brands and reinforce points of customer contact (Phase Ⅰ), Increase KOSE's global presence and improve the customer experience(Phase Ⅱ), Become customer-driven company appreciated by people worldwide(Phase Ⅲ).
We kick off the Medium-term Management Plan with the first phase "Expansion of Global Brand and Enhancement of Customer Touch Points" from April 2018, based on the following basic strategy:
Three Phases of "VISION2026":
Phase Ⅰ:Upgrade global brands and reinforce points of customer contact (April 2018 – March 2021)
Phase Ⅱ:Increase KOSE's global presence and improve the customer experience (April 2021 – March 2024)
Phase Ⅲ:Become customer-driven company appreciated by people worldwide (April 2024 – March 2027)
Phase Ⅰ:Upgrade global brands and reinforce points of customer contact
1. Three Growth Strategies
Accelerate globalization of brands
Proactively develop unique products
Explore new growth domains
2. Two Value Vectors
Aim for even more personal customer experiences
Focus on unique forms of value by utilizing external resources and technologies
3. Three Management Foundations
Build a sound foundation for the company growth
Recruit people who can adapt to changes in market conditions
Create an environment that allows people to realize their full potential
Performance Benchmarks (FY2020)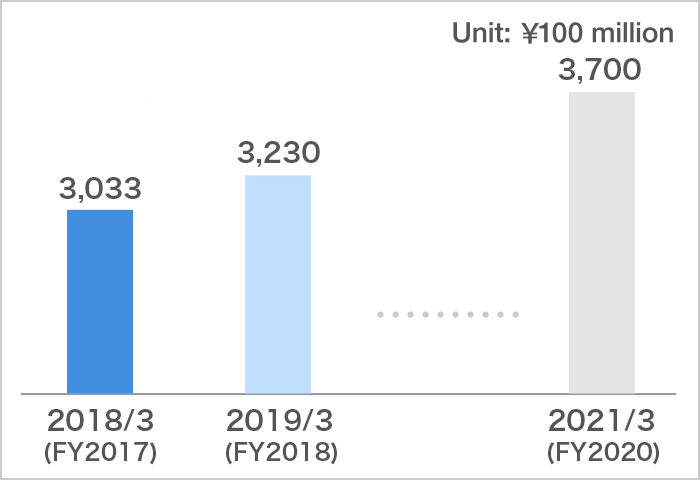 Performance Benchmarks
| | |
| --- | --- |
| Sales | JPY370 Billion |
| Operating Margin Ratio | 16.2% |
| ROA | 18.0% |
| ROE | 15.0% |