〔Human rights/Labor practices〕

Together with our employees
Striving to Nurture Human Resources and Improve the Working Environment.
KOSÉ Group gives its full support towards people who can challenge themselves with a strong will and courage. And we do so by respecting our employee's ambition and independence. Because we believe that if our employees can grow, the company can grow as well. We consider our employee's occupational health, safety and work-life balance. And as we progress to a workplace where each individual's human rights and diversity is respected, we are creating an environment where employees can have a dynamic lifestyle.
Consideration for working environment and work-life balance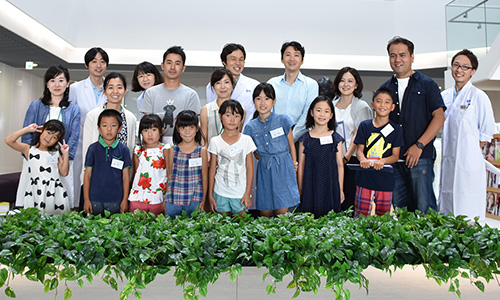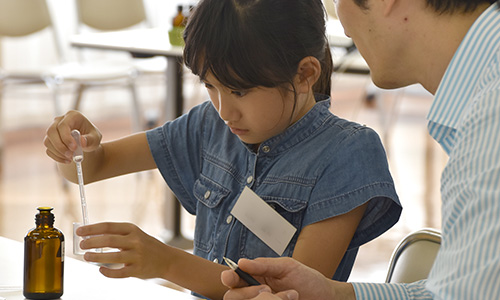 KOSÉ Group is continuously aiming for harmony between work and life and for a relaxed working environment. As a part of this, we are working aggressively towards in converting our contractual workers, such as Beauty Advisors and the like to full-time, regular employees and promoting employment status conversion to regular employees regardless of job category, area and gender. We shall create an environment where all employees can demonstrate their abilities as we aim to achieve an average female ratio of 50% or more in three years up to April 1, 2019 so that it will be converted according to the actual situation of employment. Especially in the conversion of contractual workers to full-time regular employees in which women makes up the majority.
We continue to respect the balance between work and family so that we can respect the diversity of our employees and be able to respond appropriately to their life events. Starting in 2015, we have introduced a system that enables employees with children or those who are nursing their elderly to work with a peace of mind as well as creating an environment in KOSÉ and KOSÉ Cosmetics sales where they can be active. We are always thinking about how they can continue their work while living with their family.
Childcare leave can be acquired for up to a maximum of two years after birth, and this can be used for cases when they cannot enter a nursery school. A short-term working system was also created. 80 percent out of all our regular employees who gave birth and then acquired childcare leave have returned to work. We are also creating an environment where employees are encouraged take advantage of our childcare leave and short-time work systems without hesitation. As well as improving our back-up system for employees who are currently raising their children.
Promoting the Health of Our Employees

As we believe the health of our employees is one of the most important foundations of a business, we advocate the management and promotion of our employee's health and always strive for occupational safety and health so that all employees can work safely and be mentally and physically healthy. In addition to keeping track of our employee's working hours, our company also sets a reduction target to promote work optimization, as well as periodical medical examinations. And depending on the results of their medical exam or working conditions, we provide face-to-face guidance with industrial physicians. In recognition of our efforts, the Ministry of Economy, Trade and Industry as well as the Japan Health Council has certified us with the "Superior Healthy Business Corporation White 500″ in 2017 and 2018.
Promotion of education and awareness about human rights and diversity management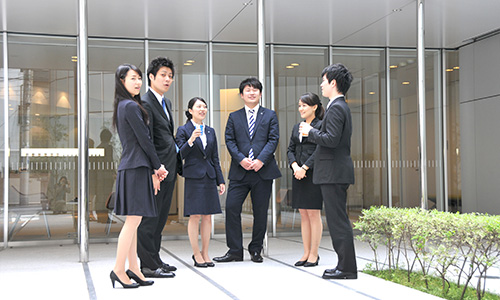 We have stipulated to maintain healthy working environment and respect for human rights without ever taking actions that may lead to discrimination in the KOSÉ Group Action Guidelines. Included in the managerial classes for our managers is the promotion of human rights and education. In addition to our training courses on how to respect human rights based on deep understanding of nationality, race, religion, educational background, age, etc., we included educational courses to further promote the understanding on so-called LGBT* (including all sexual orientation and recognition). Furthermore, the Action Guidelines has been partially revised in effort to raise awareness and understanding about changing socially accepted notion of diversity and human rights in the work place to create a healthy working environment that respect diversity
*LGBT: A generic name of the Lesbian, Gay, Bisexual and Transgender.
Personnel Development and Creating Innovation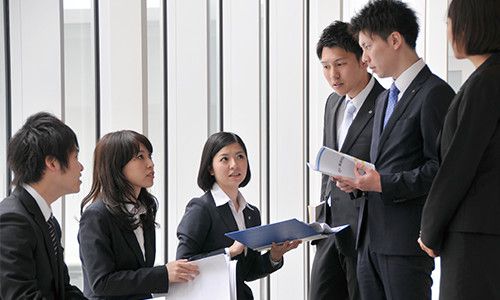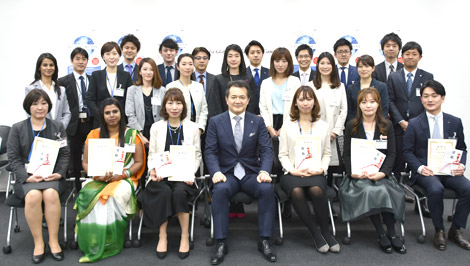 KOSÉ encourages employees to learn and grow independently by making the most out of their diversity while sharing our common missions and goals at the same time. Cross-departmental "personnel development training," which is provided to newly hired employees, employees in their third year with the company, and employees who have reached the age of 30, and on-the-job-training that meet the needs of each department are held to drive personnel development. We also regularly hold project style training which discusses how we can offer new value through cosmetic products and its planning as part of leader development program.
Commercializing the Ideas of Employees
In addition, we have been holding a contest once every two years on new product idea to utilize employees' diverse ideas in business since 2008. In 2016, the scope was expanded to include overseas and 2,000 entries were judged and excellent ideas were awarded. We also began in-house application system to gather ideas for innovation from the employees and advance our efforts from 2017.
Creation of an environment where people both with and without disabilities work together
Creation of an environment where people both with and without disabilities work together
Support for the normalization concept(ADVANCE special subsidiary)
For Improving the Technical Skills of Beauty Advisors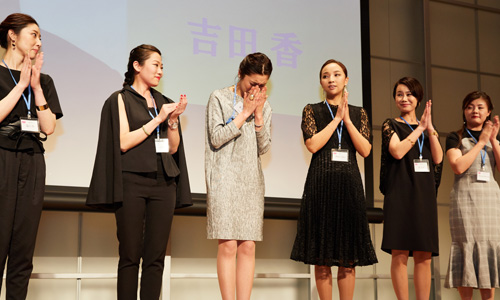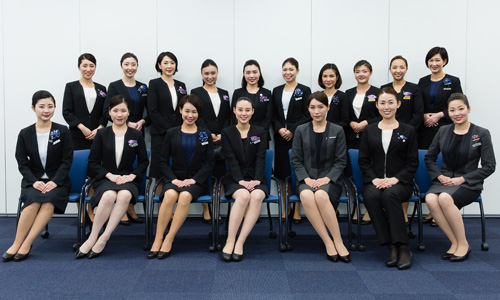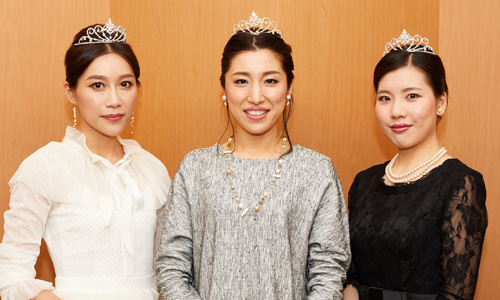 Beauty Advisors who interact with the customers are responsible in adding further value to our cosmetics in addition to the mastery and knowledge of their skills. In 2014, 1,117 beauticians were promoted as regular employees from being a contractual employee. This resulted in an increase on the ratio of regular beautician employees from about half in the past, to about 90%. And from 2015 onwards, we introduced a "Makeup Lesson Certification Test" approved by the Ministry of Health, Labour and Welfare. This certification contributed to the improvement of the skills and awareness of Beauty Advisors.
Back in 1975, there was a national contest where the beauticians who acquired their skills from their everyday work at the store all gather in one place to compete with their makeup skills and customer service. And from 2011 onwards, it expanded overseas as the "Global EMB Contest." And in 2018, 17 members who won the domestic and international final selections competed with their skills.
About the Makeup Lesson Certification Test
In order to improve customer satisfaction, we introduced the "KOSÉ Makeup Lesson Certification Test" approved by the Ministry of Health, Labour and Welfare, as an in-house certification system for evaluating the skills of Beauty Advisors here at KOSÉ. The goal of this test is not only to evaluate the skill of providing advices to customers as a beautician but also the skill of educating the customers to make them apply makeup techniques by themselves. By ecudating our customers the "Appropriate makeup and application method" and helping them so that they can become more beautiful by themselves, the trust that our customers give to Beauty Advisors becomes stronger, which also leads to the development of the members. The "KOSÉ Makeup Lesson Certification Test" carried out the Second Grade test in 2015 and it launched the First Grade test from 2016.The Second Grade is based on the knowledge and skill of a beautician with more than four years of working experience as a baseline standard. The test includes a written exam, knowledge about the basics of makeup, technique, a wide range of knowledge including beauty care trends, communication, hospitality, beauty care, and skin. The First Grade is aimed for those who have passed the Second Grade. In this grade, they must have the knowledge about point makeup, color, tone, etc. and all other knowledge and skill as a high-level beautician. In addition, the skill of a beautician to teach a customer about the makeup application methods will be evaluated (half of the makeup on the customer will be done by the beautician and the other half will be done by the customer) in the "Makeup Lesson" practical test.
Through the "KOSÉ Makeup Lesson Certification Test" we are able to measure the knowledge and skills of the beauticians, standardize makeup application skill by using it as an institution, and aim to improve the skills, customer service and support.
The 7th Global EMB Contest Gran Prix Prize Winner
KOSÉ Japan / Sendai Branch

吉田 香 Kaori Yoshida
KOSÉ beauty advisors are required to have an ability to sense hidden real intentions of clientele from their gestures, visual lines, and behaviors. That means we have to grow ourselves to keep pace with the changing times. My aspiration is to be a beauty advisor who can bring smiles of satisfaction to my clientele, and promote more beauty.