〔The Environment〕

For the Global Environment
Efforts related to products
KOSÉ strives to create cosmetic products that are "good not only to users but also to the global environment." In addition to setting strict standards in the selection of raw materials and ingredients, careful research and development are also undertaken to make products that are easy to segregate and dispose after use and produce less amount of waste. KOSÉ is committed in continuing to respond to customer demands and market needs while developing environment-friendly products.
Activities to Improve Containers and Packaging
The container and packaging of a cosmetic product serve an important role in preserving its contents and making it easy to use. They also provide various information about the product including the product philosophy. However, cosmetic products are still consumer products, and once they have served their purpose, their containers and packaging become waste that need to be disposed of. KOSÉ is in continuous development of containers and packaging that consider environmental impacts at disposal.
Easy separation of components of a container made of different materials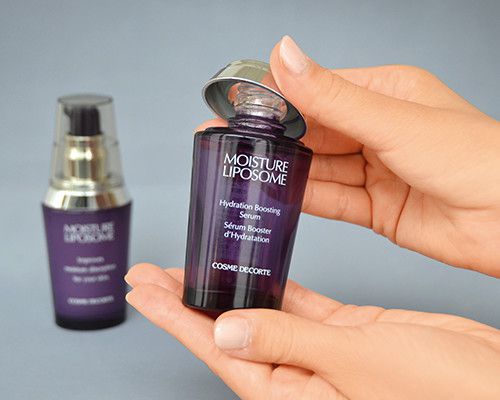 Cosmetics containers made from a combination of different materials, such as metal and plastic or glass and plastic, cannot be disposed of as recyclable waste. By coming up with designs that allow each part to be separated easily, our containers are designed to make waste separation easy so that they can be recycled.
Use of plant-derived plastic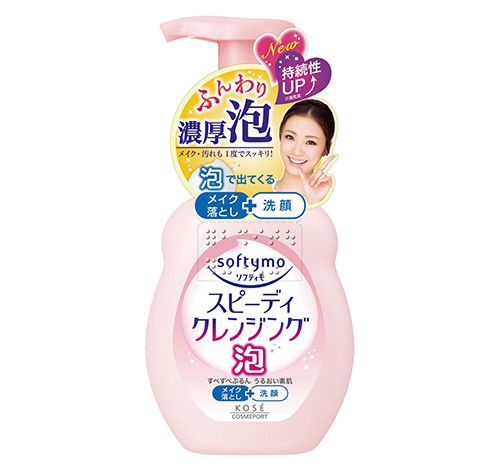 KOSÉ Cosmeport continues to use containers made from sustainable raw materials including plant-based PE (polyethylene) plastic instead of oil. We started doing this with the raw materials of the refill pouch container, which is made up of about 12% plant-based PE. We are seeking other ways to increase the usage ratio of materials like this as well as the number of products that utilize this approach, and in 2013 we were successful in creating a 90% plant-based PE bottle for the Softymo Speedy Cleansing Foam. We plan to continue expanding its utilization in other products as well.
Reducing the Use of Resin in Containers & Packages
Reduction of the amount of resin used in the package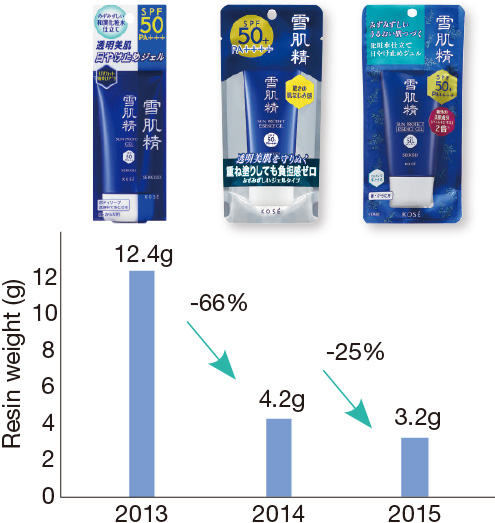 In 2013, we succeeded in greatly reducing the amount of resin that we use when we started to utilize film packaging in one of our best-selling products, the Sekkisei Sun Protect Essence Gel, and we were able to further reduce (see the bar chart on the right) by updating the design. This packaging is used in a range of other products including Fasio, our makeup brand, and SportsBeauty, our sunscreen brand.
KOSÉ continues to aim for the reduction of our environmental impacts in other ways including utilization of refills and replaceable containers.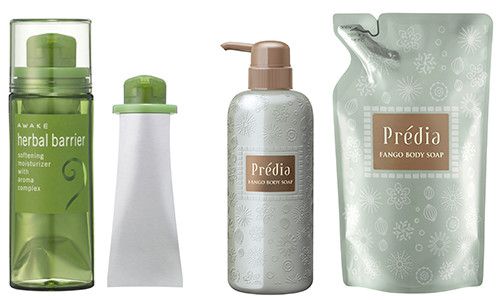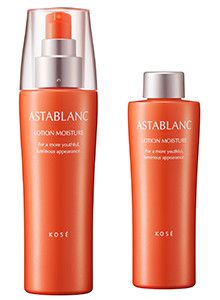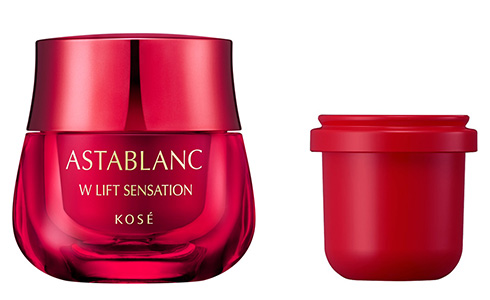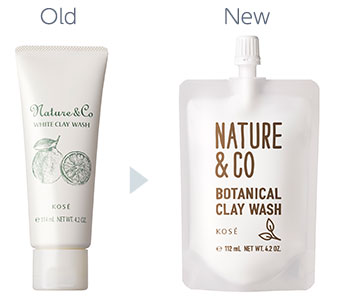 Use of recycled materials
Some of the containers KOSÉ uses for its cosmetic products are manufactured by its Group companies. They have developed their own device to recover the residual plastic that remains after molding so that it can be reused. Recovered plastic is used as a material for caps and for containers of sample products.
KOSÉ also promotes the use of recycled materials for containers of cosmetic products. Resin boxes carrying the PET Bottle Recycling Mark have been used for some of its products, and will be used for more products in the future. About 90% of the bottles for all of the four kinds of Rose of Heaven Shampoo and Conditioner are made from recycled PET, successfully reducing CO2 emissions by 63% compared with other existing products.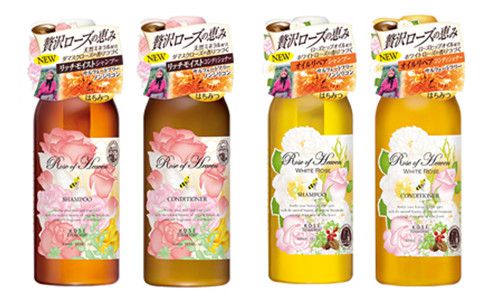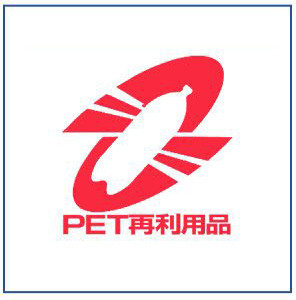 Use of recycled paper for packages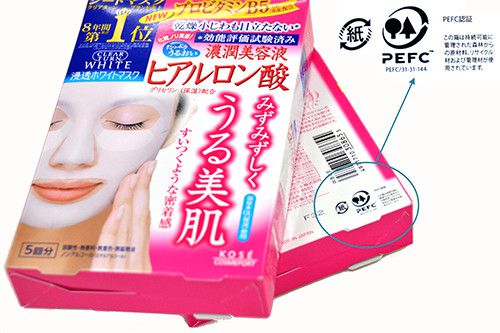 KOSÉ seeks to increase the use of recycled paper for single-piece boxes for products, package inserts, brochures, and carton boxes. At present, recycled paper is used for almost all of its brands, including COSME DECORTE, SEKKISEI and Predia.
Proactive use of paper made from sugar cane residue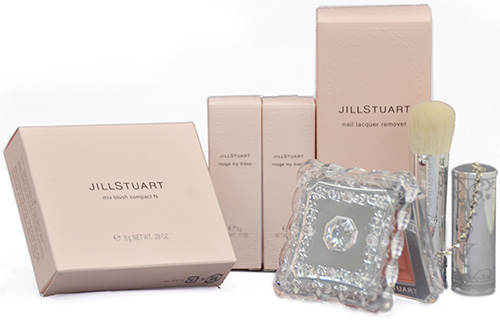 Bagasse※ as a raw material to create boxes
Paper made from sugarcane residue
Reduction of Package Inserts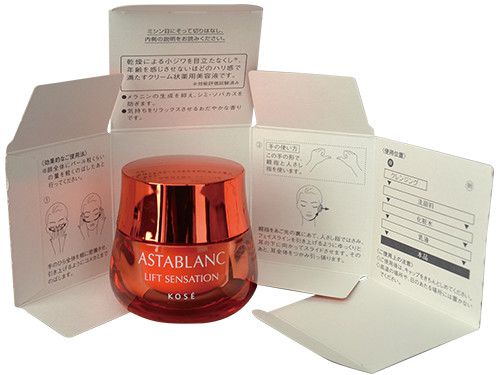 KOSÉ is working on increasing the number of products that do not have package inserts by directly printing descriptions such as how to use the product on the outer part of the product box. This is currently being done in many of our brands and products, and in some products other solutions such as printing inside the box are being implemented.
Activities to Improve Product Contents
The use of plant-based raw materials and environmental impacts after use are also taken into consideration in the development of the contents of our products.
Statement for microplastic beads
Microplastic beads are used as a raw material in rinse-off cleansing products. Microplastic beads are safe for humans, and have been used as a highly-functional raw material; however, in recent years their potential environmental impact has been raised as a concern both in Japan and overseas.
In consideration of the worldwide social concern, KOSÉ Group stopped using microplastic beads for new cleansing products developed since 2014, making the switch to plant derived materials with less negative environmental impact. Also we have completed the replacement of the traditional cleansing products containing microplastic beads with new products. No cleansing product containing microplastic beads has been shipped since January, 2018.
Use of biodegradable raw materials as much as possible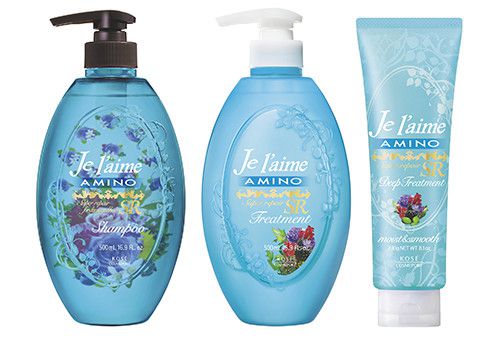 KOSÉ uses biodegradable amino acid raw materials for some of its products, such as facial cleansing products and shampoos. Even if these products are emitted into rivers, these raw materials are easily degraded by naturally occurring microorganisms. They are used for almost all of the KOSÉ brands, including COSME DECORTE, GRANDAINE, Je L'aime, softymo and SALON STYLE.
Use of organic raw materials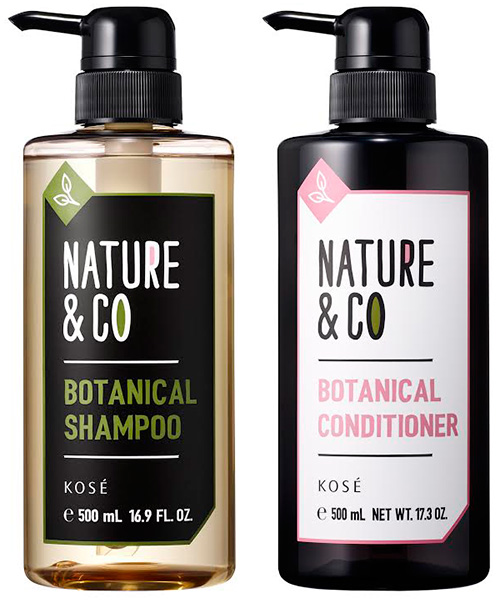 Organic products cultivated using environmentally friendly methods have drawn considerable public attention in the area of agriculture. KOSÉ has focused its efforts on using organic raw materials for cosmetic products. Products under the brands of Nature & Co and SALON STYLE contain essences of organically cultivated herbs. For AWAKE Pure Organic Cotton, cotton certified by the Japan Organic Cotton Association (JOCA) is used.