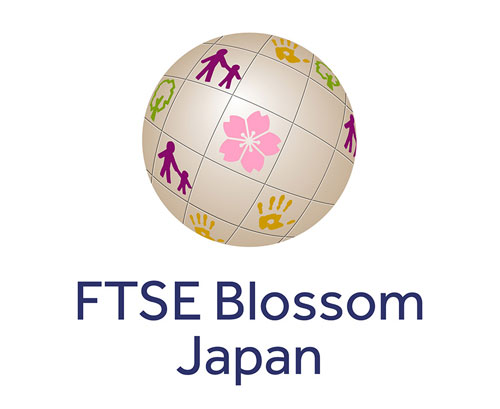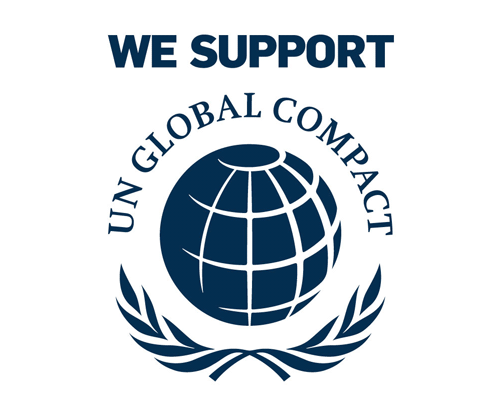 As we execute our CSR activities, we identify issues based on industry standards like ISO26000 guidelines and other third-party ESG evaluation criteria to prioritize the issues while taking the changing international circumstances into consideration. We have signed the UN Global Compact (UNGC) in July, 2017, and carefully chose SDGs (Sustainable Development Goals) that need specific focus and we believe we can address.
Process for Setting CSR Activity Targets
In September 2015, member states (193 states) of the United Nations adopted a set of goals to end poverty, protect the planet, and ensure prosperity for all as part of a new sustainable development agenda in the next 15 years. This agenda is called Sustainable Development Goals (SDGs).
SDGs is an expansive challenge by the entire world to engage to ensure that no one is left behind. It includes issues that were not fully addressed in the Millennium Development Goals, 17 goals such as worsening environmental issues discussed in Rio+20, and 169 targets.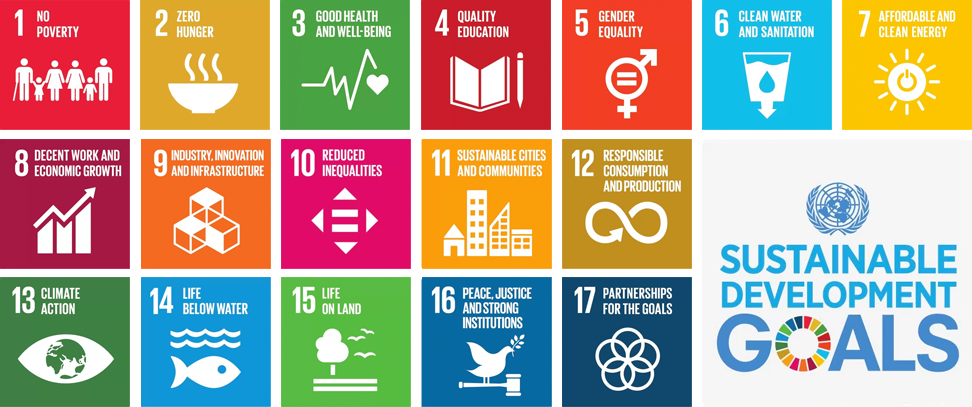 Review Activity Themes and Goals Using SDGs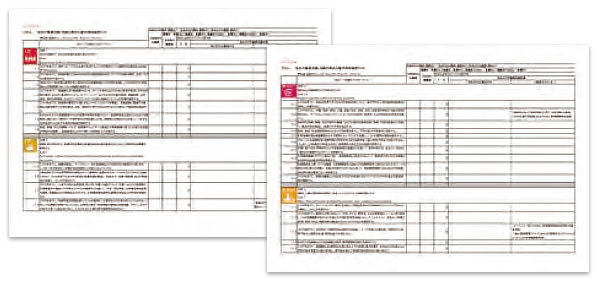 We believe that cosmetic products we manufacture and sale supports the customers mainly consisting from women to play an active role in the society and contribute in improving quality of life. In addition, all our corporate activities such as procurement of raw materials and environmental impact are closely related to the goals of the SDGs.
In response, we have reorganized and reviewed individual CSR activity themes we have been engaging in against 17 goals of the SDGs and 169 targets.
Conforming the list of CSR targets from prior with 169 targets of the SDGs
Checking order of priority of the activity themes and setting high priority themes
Identifying Priority Themes
KOSÉ has set activity themes and mid-term goals by organizing corporate activities using ISO26000. In 2016, we identified priority themes from the med-term goals using the SDGs. We made assessments using the two axis of social expectations and requests and importance for KOSÉ and size of impact on the society. As a result, following items were set as priority activity themes for fiscal 2017. We believe each item are relevant and can contribute in SDGs goals.
These priority activity themes will continue to be reviewed to meet the request of changing society.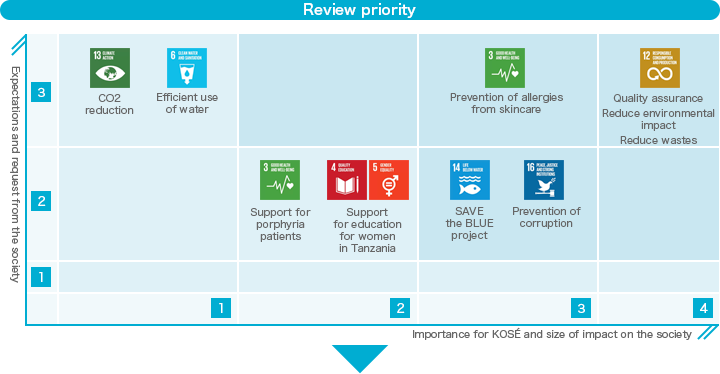 For the complete list of our CSR Activities, refer to the following PDF file (Japanese/English):