Special issue 1

sekkisei "SAVE the BLUE" Project

Coral reefs in Okinawa, which are among the most beautiful in the world, are on the verge of extinction due to global warming.Ever since the launch of the "SAVE the BLUE" project in the summer of 2009 aiming to achieve a blue, beautiful, sustainable Earth for the future, we have been continually promoting activities in Japan and APAC countries.
"The Earth Becomes Beautiful When You Become Beautiful"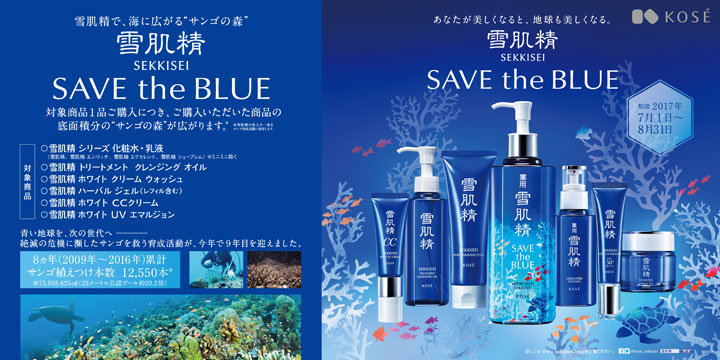 The Earth Becomes Beautiful When You Become Beautiful With the "SAVE the BLUE" project we donate a portion of the sales of our globally popular, leading skincare brand Sekkisei for environmental conservation, and continually providing a range of environmental and educational activities. The project name reflects our wish to sustain our "beautiful ocean" associable with the brand's representative "lazuline" bottle color.

In Japan the project contributes to maintain the corals that provide a precious nurturing environment for a wide range of marine flora and fauna as well as an important natural function of absorbing CO2, one of the causes of the global warming. Size of the coral reefs around Okinawa's main island has drastically decreased in recent years due to coral bleaching caused by the global warming and outbreaks of crown-of-thorns starfish. KOSÉ's donation in the past nine years contributed to the transplantation of 14,440 coral plants. We are also actively promoting various initiatives outside Japan aligned with country and region-specific environmental conservation efforts.
"Expand the Coral Reefs in Okinawa" Project: Activities and Achievements in Japan
Sekkisei "SAVE the BLUE" Project (2017)
In 2017, again, KOSÉ donated a coral planting fund to plant corals for the area equivalent to the base area of selected Sekkisei products bought by customers during the summer campaign. The fund was provided to a local recipient company same as the last time, SeaSeed.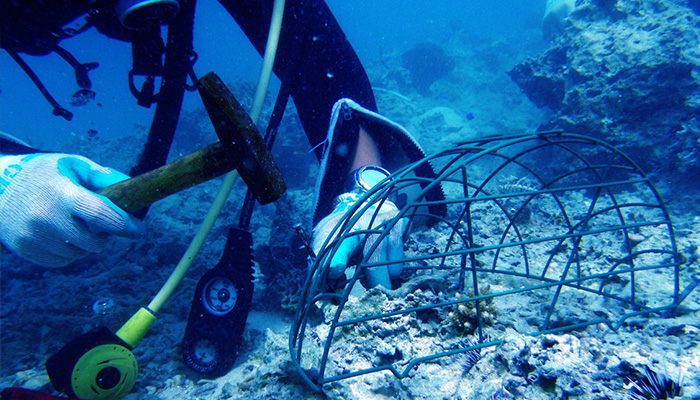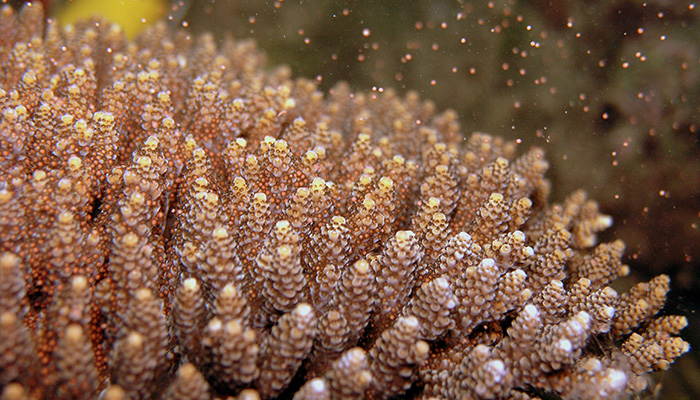 Campaign Period

July 1 – August 31, 2017

Campaign Products

Sekkisei Series Lotion and Emulsion

〈Sekkisei, Sekkisei Enriched, Supreme, Excellent〉 *Except for Mini-size

Sekkisei Treatment Cleansing Oil
Sekkisei White Washing Foam
Sekkisei White UV Emulsion
Sekkisei Herbal Gel (including Refills)
Sekkisei White CC Cream
Sekkisei Supreme Whitening Herbal Oil
Sekkisei Supreme Herbal Clear Essence
Sekkisei Supreme Powder Foundation
Sekkisei Supreme Whitening Liquid Foundation
Since 2009 when the project started, the coral reef area around Okinawa has been steadily expanding.
Year
Planted Area
Planted Number
2017
11,532,788cm2
375m2 approx. 3x of 25 meter pool
1,890
2016
12,381,546cm2
375m2 approx. 3.3x of 25 meter pool
2,030
2015
13,041,094cm2
2,138
2014
11,230,216cm2
1,841
2013
11,769,657cm2
1,929
2012
7,810,856cm2
1,031
2011
7,819,100cm2
1,282
2010
6,789,944cm2
1,085
2009
5,158,912cm2
972
2009-2017 Accumulated Total
87,491,413cm2
375m2 approx. 23.3x of 25 meter pool
Accumulated number reaches to 14,440
Not all the coral plant is rooted.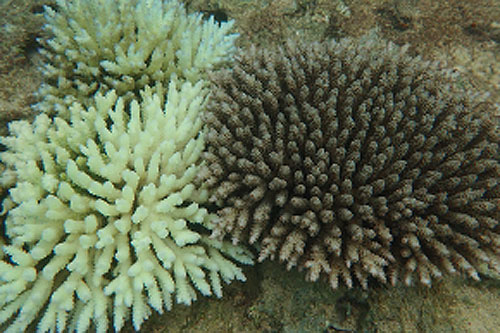 "Miracle Coral" Become the Subject of Wide Interest
Corals planted by the "SAVE the BLUE" project survived the bleaching that occurred around the world due to the raise in sea temperature in the Summer of 2016. It is assumed that they had resistance to ultraviolet rays and heat due to being nurtured in shallow waters.
According to data from SeaSeed, eggs spawned in the coral growing area flow to the Nago waters about thirty kilometers away, encouraging a success of the project. (Source:Research data from SeaSead)
to Sekkisei SAVE the BLUE Campaign page(japanese only)
Activities in Asian Countries
Japan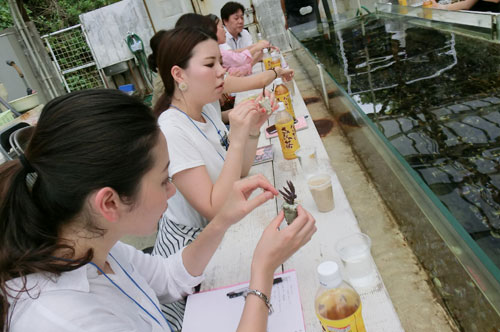 About 45 beauty advisors from around Japan participated in "Okinawa coral study trip" to learn the importance of environmental conservation in Okinawa since 2012. The participants also took part in Clean Pic to clean the coast in addition to separating corals. They also take on a role as Coral Ambassador to share their experience to colleagues and sales store to raise their environmental awareness.
"Clean Pic," a cleaning" sport to make our seas cleaner
In the "Coral Study" program, participants can even challenge an enjoyable "Clean Pic" as an environment cleaning sport. Within a set time period, each team collects every kind of garbage that was washed up on shore and they are sorted out depending on the impact it gives to the environment. One of the participants voiced out that "It's very surprising that there's a lot more garbage than we thought.".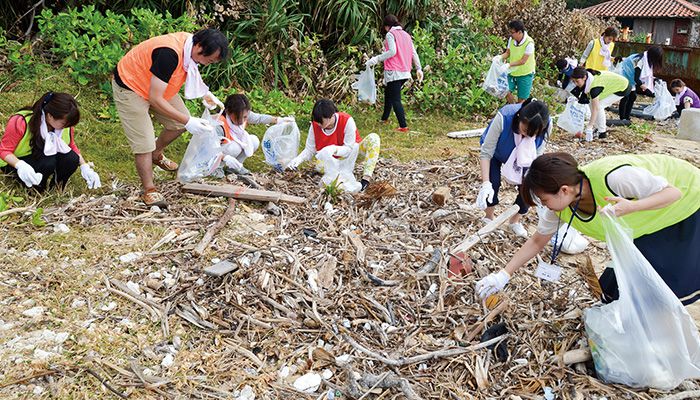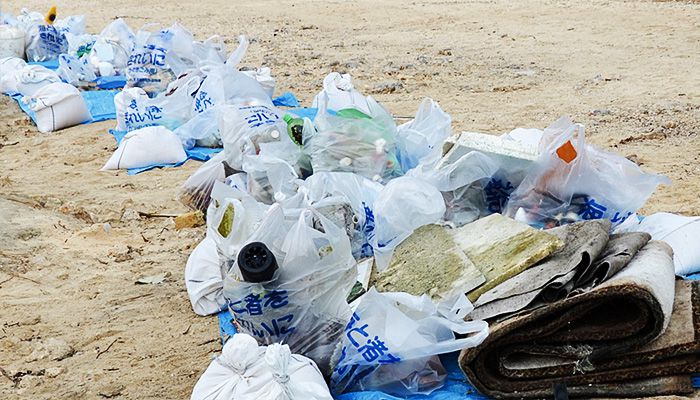 China
In China where the air pollution problem is getting worse, KOSÉ is supporting an Inner Mongolian Desert Afforestation project by Green Life, a non-governmental organization that is buying and planting trees for desert greening. Our tree-planting tour to a Mongolian desert for Sekkisei customers chosen by lot is very popular; we have planted about 120,000 trees in five years from 2012, contributing to the expansion of approximately 270,000 m 2 of green areas.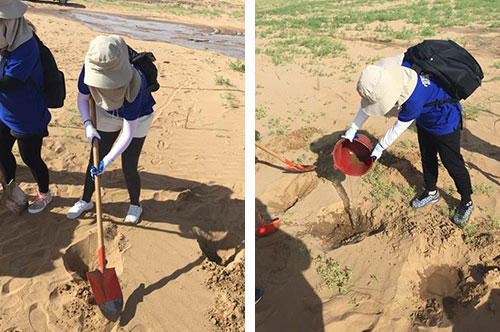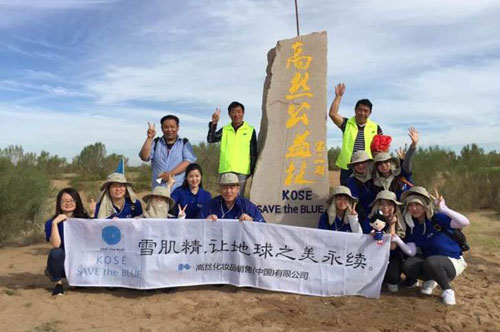 Thailand
We are cooperating with the environmental conservation activities of the Marine and Coastal Resources Research and Development Center of the Eastern Gulf of Thailand, which has been established by the Thai government to protect marine ecosystems. Planting coral in Ko Samet in 2016.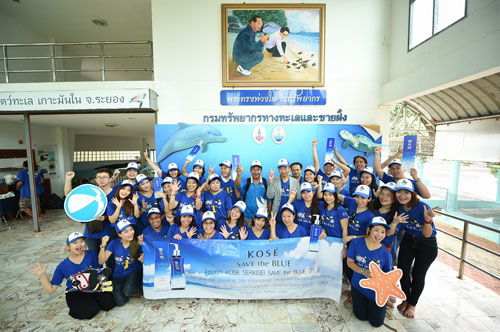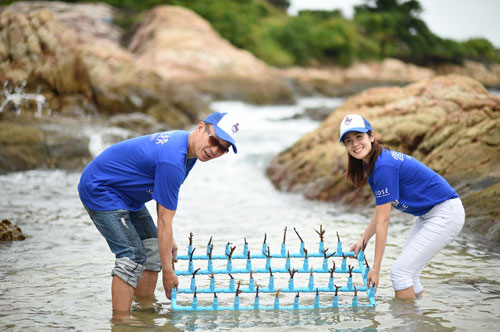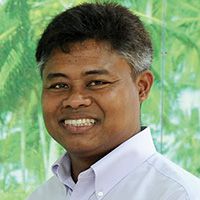 Director of Marine and coastal resources research and development center The eastern gulf of Thailand

Suthep Mr.Jearlaong
Sea turtle is a vital part of the marine ecological system and its extinction would have a tremendous negative impact on the marine flora and fauna. Decrease of the number of sea turtles is very serious; they will be extinct in near future unless some sort of measures are carried out. I am excited to share this opportunity with KOSÉ and support the activities to maintain the marine ecological system.
Taiwan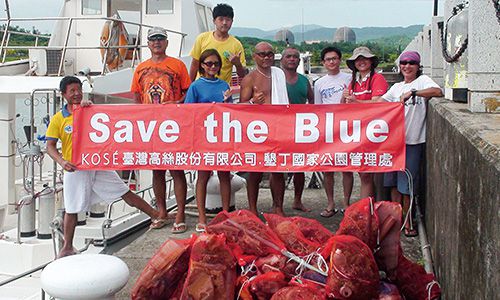 KOSÉ is supporting a range of environmental activities at Kenting National Park, one of the most popular national parks in Taiwan. In 2015, we performed a marine cleaning activity by sixty divers around coral growing areas. The divers removed garbage in the coral growing areas to restore the environment that nurtures marine life.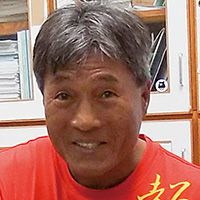 Maintenance Staff, Kenting National Park

Chen Rong Xiang
We really appreciate the support by KOSÉ in cleaning up the marine environment. Removing the vast amount of garbage on the sea bed requires a great deal of labor. I am looking forward to collaborating on the marine environmental activities.
Singapore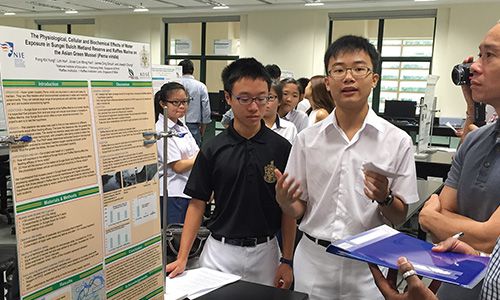 We support projects conducted by the National Parks Board, a government organization. Under the joint sponsorship of the National Parks Board and KOSÉ, junior and senior high schools in 2014 started to conduct marine environmental surveys. Students study shellfish inhabiting coastal areas and conduct a follow-up study on the accumulation of chemicals in marine organisms.
Malaysia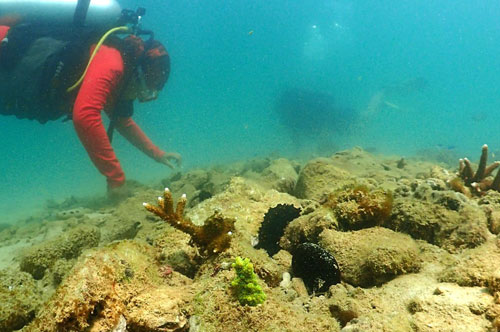 We engage in environmental survey and preservation activities in Tioman island in the eastern coast of Malay Peninsula and various other areas where corals grow through supporting NGO organization Reef Check Malaysia.