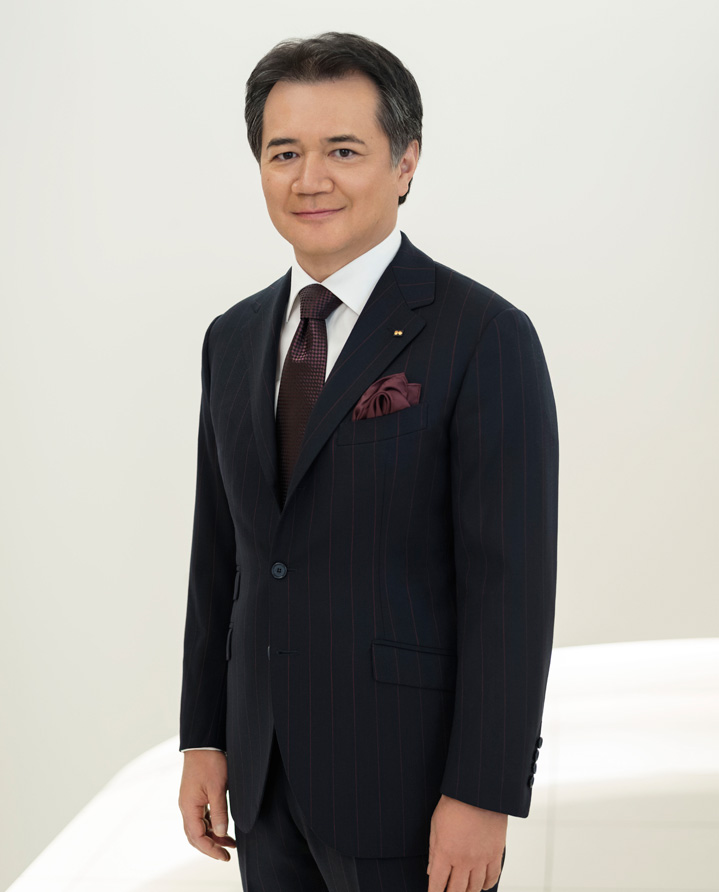 For Sustainable Growth
and Future
Kozaburo Kobayashi, who founded KOSÉ in 1946, poured his limitless passion into making cosmetics that give people dreams and hope. Even during the post-war period of shortages, Mr. Kobayashi committed KOSÉ to making quality products that truly exceeded the expectations of each customer. This spirit remains alive in all facets of our business today, from research and development to manufacturing, from customer-oriented consultative sales to distribution, to our unique brand marketing system that perfectly matches brands with sales channels. We believe it is this spirit that gives KOSÉ the strength and drives the company to do more. Since assuming the position of president in 2007, I have focused my efforts on developing a foundation from which we can grow into a global company while still preserving the corporate culture. We started our journey to achieve challenging goals by overturning existing norms through a borderless approach to accelerate our global growth. In line with its basic strategies — "Promote brands to win recognition and respect around the world" and "Sustainable improvement in performance" — KOSÉ will redirect its approach to achieving growth in such a way as to expand its presence in the global market.
In order to achieve long-lasting growth, society and the Earth as the foundation must be sound and sustainable. We have organized CSR and Risk Management Compliance Committees to accelerate our cross-organizational efforts to fulfill our responsibility to establish sustainable society and the Earth based on our CSR Principles "Wisdom and Beauty for People and the Earth" and "Mind to Follow the Right Path." In July, 2017, we joined the UN Global Compact (UNGC). We will continue our efforts to achieve the SDGs(Sustainable Development Goals) for 2030.
We will continue to maintain our ardent passion for cosmetics and work together with our stakeholders. Your continued patronage and support are greatly appreciated.
Kazutoshi KobayashiPresident & CEO KOSÉ Corporation