Priority Issue 4

Together with Employees
Development and management of personnel resources and workplace environment
Believing that the growth of each employee leads to the growth of the company, the KOSÉ Group respects the desire of employees to improve themselves and make independent decisions, and offers full support to those who are willing and courageous enough to take on challenging responsibilities.
We are committed to developing a corporate culture where individual human rights and diversity are respected, with consideration given to occupational safety and health as well as work-life balance, so that employees can play an active role at work.
Together with Employees (List of Action Goals)
Improvement of Work Environment and Promotion of Diversity Management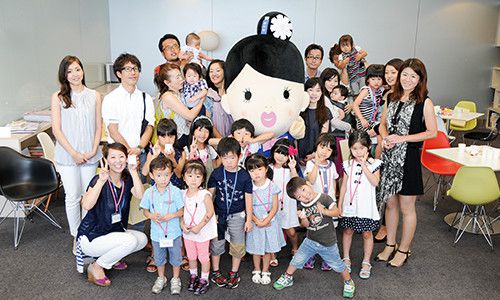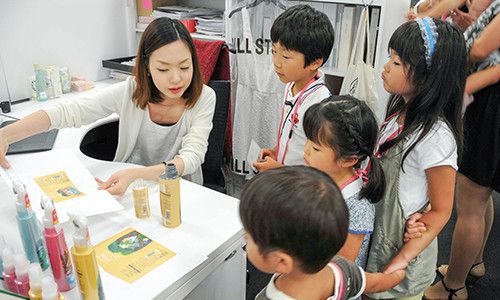 The KOSÉ Group is making efforts to create a work environment where employees can enjoy a well-balanced work and personal life and work in comfort. As part of these efforts, we actively promote the shift of fixed-term contract employees, such as beauty staff, to regular employment as well as the shift from other forms of non-regular employment to regular employment, regardless of type of job, region or gender.
Particularly for the shift* to regular employment of fixed-term contract employees, the majority of whom are women, we are aiming to have women make up at least 50% of these shifted employees on average for the three-year period up to April 1, 2019, in line with current employment trends. Through these efforts, we are working to create a workplace environment where all employees can fully demonstrate their abilities.
The KOSÉ Group respects the diversity of its workforce and promotes a balanced work and family life by offering support programs with an emphasis on personal life events. KOSÉ and KOSÉ SALES CO., LTD. adopted in fiscal 2015 a system that supports employees engaged in child-rearing or family care so that they can continue to work with peace of mind as well as have a family life. Child care leaves of absence are approved for up to 18 months after childbirth, which is particularly helpful when there are no vacancies at child care centers. A system for shorter working hours is also available. Of employees who have given birth, 100% took child care leave and 80% of them returned to work after the leave. Our efforts are also focused on creating an atmosphere that encourages employees to take child care leave and use the shorter working hour system. We also offer a backup care program to employees who are raising children.
Education and awareness raising about human rights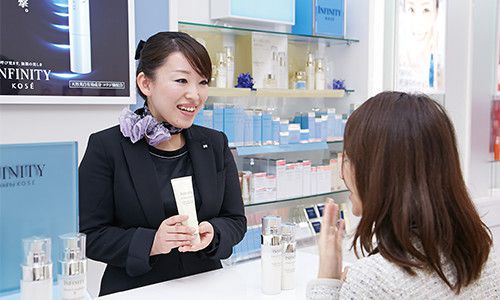 We give consideration to occupational safety and health so that all of our employees can work in a safe and healthy environment, both mentally and physically. To help our employees maintain their health, we accurately understand their working hours and set targets to reduce them. Depending on their health checkup results and working conditions, employees can also consult with an occupational physician and/or occupational health care staff. To promote awareness raising and education on human rights issues, our management education programs for executives are designed to deepen their understanding of the importance of giving consideration to human rights.
Creation of an environment where people both with and without disabilities work together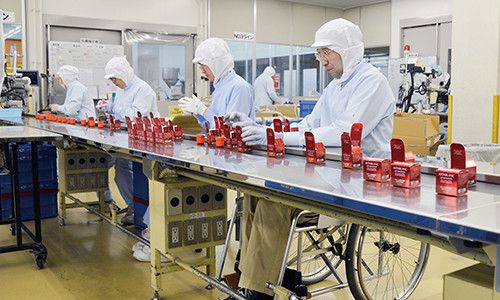 The KOSÉ Group strives to create an environment where people with disabilities work side-by-side with people without disabilities.
Personnel development programs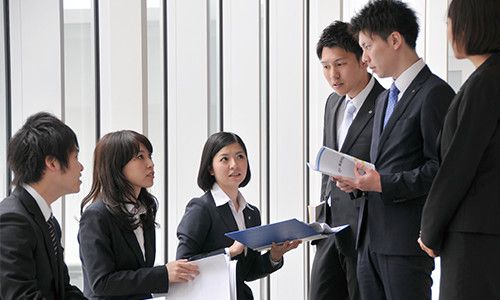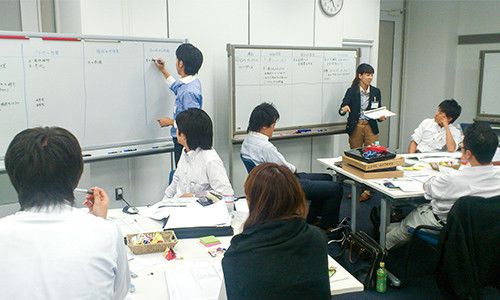 KOSÉ supports those who are willing to learn and encourages self-development. In line with this corporate culture, we offer subsidies to employees who take correspondence courses. An educational funding system is also available. Our cross-departmental "personnel development training," which is provided to newly hired employees, employees in their third year with the company, and employees who have reached the age of 30, is designed to improve their understanding of the kind of basic knowledge expected of socially responsible persons and to give them an opportunity to think about work-life balance. "Department-specific training," which is similar to the sales training developed for distribution companies, gives staff of each department an opportunity to acquire practical work skills.
In 2013, we launched our Business Educational College (BEC), which aims to develop future leaders. Consisting of project-type training, BEC provides participants with an opportunity to study and plan how to create new value for cosmetics. BEC programs are designed to help employees selected from different departments acquire the competence needed to achieve an objective through practical activities.
Commercialization of ideas from employees
The KOSÉ Group designs its systems for education and training, personnel management, and employee participation in management so as to ensure that the company and its employees can share the same philosophy and unite to achieve common goals. One of the efforts under these systems is the "KOSÉ Idea Contest," which has been held every two years since 2008. This contest encourages employees to present ideas for commercialization. For the fourth contest held in fiscal 2014, we received 2,321 ideas. The President's Award is given to the most outstanding proposals, which are considered for commercialization.
To improve the skills of beauty staff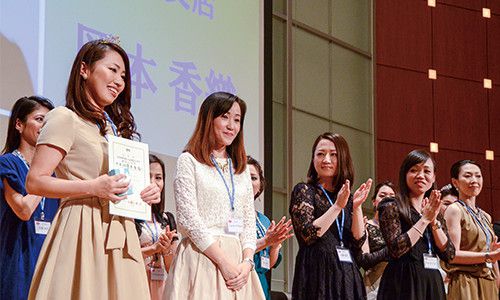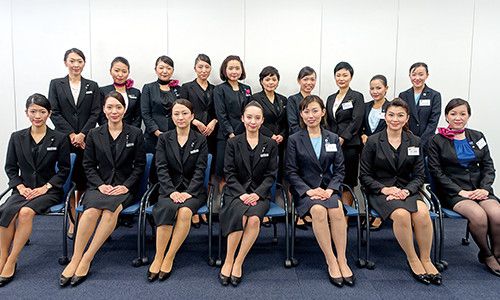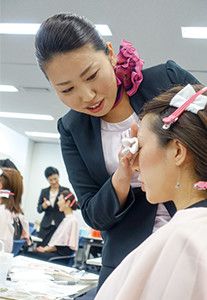 Beauty personnel, who have direct contact with customers, are responsible for adding further value to cosmetics through attentive service, which requires them to acquire specialized knowledge and skills. In fiscal 2014, 1,177 contract beauty staff members were made regular employees, increasing the ratio of regular to contract employees from about 50% to about 90%. Since fiscal 2015, we have adopted the Makeup Lesson Licensing Examination authorized by the Ministry of Health, Labour and Welfare with the aim of further improving their skills.
In 1975, a national contest was launched in which beauty staff competed comprehensively to demonstrate the makeup and customer service skills they had acquired in their daily sales activities at retail establishments. The contest was renamed the "Global EMB Contest" in fiscal 2011 and participants from outside Japan were also invited. In fiscal 2014, 17 of our staff members from Japan and abroad made it to the final round of the contest.
The Grand Prix Winner of the Fourth Global EMB Contest
Chubu Branch, KOSÉ SALES CO., LTD.

Kaori Okamoto
I always try to have customers leave the shop with a smile on their face. It is through this attitude that I think I have learned many things without even noticing. I finally won the Grand Prix on my third attempt. Without the support of people around me, I wouldn't have been able to win it. I will continue my efforts to improve my skills in order to put smiles on the faces of more customers and hope to convey what I have learned to those who come after me.