〔Fair operating practices〕

CSR Supply Chain Management
Relationship with Business Partners is the Foundation of Our Business Activities
KOSÉ has aimed for co-existence and co-prosperity management that focuses on a relationship with business partners since its founding. We value cooperative relationship and promote CSR in the entire supply chain with all of our business partners to provide safe, reliable, and high-quality products and services to our customers and continue growing with our partners in and outside Japan.
Our Relationship with Business Partners in the Supply Chain
Production that is sustainable, secure, safe and high-quality is only made possible because of our cooperative relationship with all our business partners. Strengthening our relationship with our business partners at home and abroad is key to the steady growth of future business activities.
Product supply flow, from procurement to sales
Sustainable Procurement
The Basic Procurement Policy that describes KOSÉ's approach to procurement activities is available for viewing.
Basic Procurement Policy (Raw Material Procurement Information)
Our company conducts the following activities to provide our customers with products that they can comfortably use and to carry out CSR procurement that is mindful of the society and environment.
Information Exchange Event
Different information exchange events are held twice a year to deepen our mutual understanding with suppliers at home and abroad on cosmetic essences, containers/packaging and OEM. In addition to quality and delivery dates, CSR activities for environmental and social problems are also discussed in the event. Information and opinions are also exchanged for further quality improvement and stabilization of procurement. This event contributes to mutual development by creating opportunities to collaborate with partners that work not only on the improvement of the quality of raw materials and efficiency of procurement but also on the use of environment-friendly raw resin materials from plants and paper-based containers.
Monitoring
Monitoring is conducted through an annual survey of the following items with our partners at home and abroad. Actions such as request for improvement and cancellation of partnership are taken in some cases where problems are identified.
Responsibility to the Society and Respect for Human Rights
Observance of Laws and Corporate Ethics Policies
Provide a workplace environment that considers health and safety.
Eliminate child labor, forced labor, and discrimination based on factors such as race, nationality, religion, belief, disability, gender, age, birthplace, and sexual orientation, and be considerate of socially disadvantaged people.
Anti-bribery    etc.
KOSÉ respects and supports a supplier's freedom of association, rights to collective bargaining, rights to minimum wage and elimination of excessive overtime work.
Global Environment Conservation and Resource Protection
Identify the amount of energy/water consumption and waste produced, and manage reduction targets.
Manage regulated chemical substances and emissions to prevent pollution.
Appreciation Party for Our Partners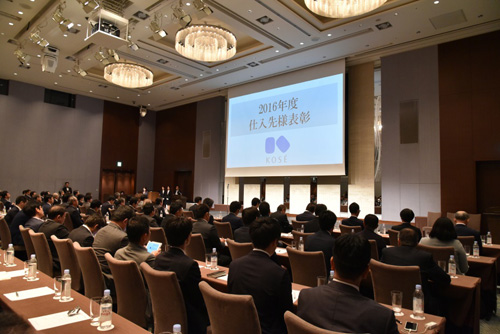 During the annual corporate strategy meeting where the KOSÉ Group's strategy, management plan and purchasing policy are discussed, an appreciation party for our suppliers to show our gratitude and recognize the suppliers who have greatly contributed to the improvement of sales, quality, and environmental actions. More than 80 domestic and international suppliers on essences, materials, OEM and other productions participated in FY 2017; we also asked for their continued cooperation in quality improvement, environmental activities and CSR. Interpreters were also present in the event because of the increasing number of participants from abroad.
Factory Inspection
Persons-in-charge from our Quality Control Department and Purchasing Department conduct visits on our partner's facilities at home and abroad as needed. The facilities are evaluated based on quality stability, occupational safety and health, and information administration. Opinions are exchanged and improvements are requested for areas that need corrective actions.
Contracts with New Suppliers
For new agreements, contracts are entered following the Basic Procurement Policy.
For cosmetic essences and OEM, application can be done via the online application form in the Material Procurement Information page below.
The Basic Procurement Policy(The Material Procurement Information)
Relationship with Production Contractors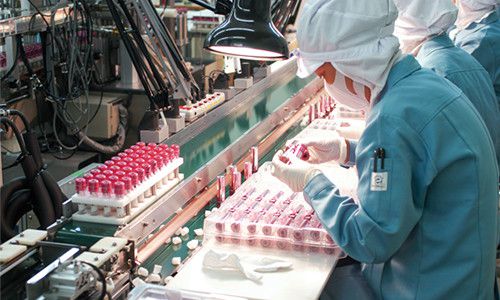 KOSÉ always maintains a relationship system that ensures KOSÉ's high quality standards are constantly achieved whenever consigning production externally, whether domestic or abroad. Audits regarding factory environment and processes are conducted based on the GMP standards to guarantee sanitary production whenever consigning production to a new contractor. Quality audits are also regularly conducted thereafter.
Activities in Logistics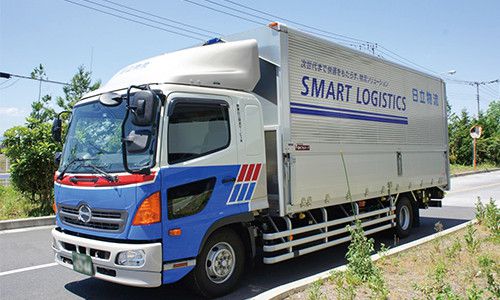 KOSÉ used to handle domestic logistics on its own, but as a part of our business structure reform, we have been outsourcing domestic logistics to Hitachi Transport System and Hitachi Collabonext Transport System since October 2011. Through outsourcing, we were able to improve operational efficiency as well as improve logistics efficiency, speed up response to changing logistical needs, and reduce environmental effects through logistics streamlining. We are still continuing to make remarkable progress in efficiency through the joint usage of charter vehicles with other companies and delivery load optimization to country-wide logistics hubs. The KOSÉ Group also started reporting its environmental effects since FY 2014 with regard to greenhouse gases (CO2).
Efforts at offices, logistics, operations, and shops
In 1997, representatives from the logistics departments of six cosmetics manufacturers participated in the "Cosmetic Logistics Forum 21" and started to implement joint order and delivery in several areas across Japan (Hokkaido, Tohoku, Chubu, Chugoku, Shikoku, Kyushu, and Okinawa). Through the joint delivery, we contribute to the reduction of work of retailers in receiving goods as well as the reduction of CO2 emissions by decreasing the number of times delivery vehicles have to travel. Steps to further increase the target areas of this activity is ongoing.
"Co-existence and Co-prosperity" with Retailers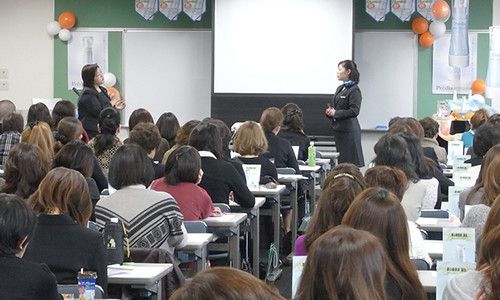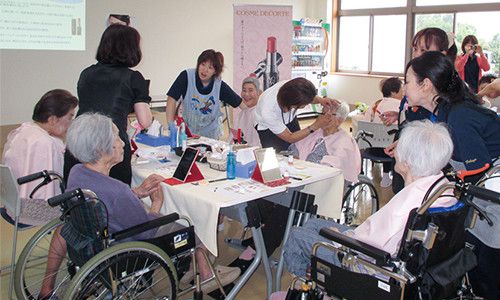 The KOSÉ group since its foundation has maintained a system of close cooperation with retailers designed not only to provide them with products but also to support their sales efforts, for example, by sending KOSÉ's beauty advisors out to stores and making proposals about in-store display fixtures. KOSÉ is continuing to strengthen its bond with retailers through the KOSÉ Club, a country-wide organization of retailers, as well as through social events attended by our company's officers and managers from retailers. Although times are changing with the diversification of distribution and increase in self-service sales through distributors, the spirit of Harmonious Management will never change.
Several seminars are also being held for retailers and their employees to enable them to conduct counseling in their respective stores. Trainings to improve the skills of employees for their careers are regularly conducted. These seminars for the retailers include trainings to promote better understanding of the brand and improve counseling skills. Since 2013, we have also included business behavior and fundamentals of beauty as an employee in the beauty industry in the trainings for newly hired employees in companies and retailers that we conduct business with to support them in becoming professionals as early as possible.
Retailers are important partners for KOSÉ in improving our relationship with localities. As an example, we collaborated with a retailer to hold a makeup lecture for local elderly people. The KOSÉ Group will continue its efforts in developing trust with our partners and delivering responsive customer service through beauty skills they can depend on.