Priority Issue 3

CSR Supply Chain Management
Practice of the CSR Supply Chain Management
Having prioritized its relationships with business partners since its foundation, KOSÉ has practiced business management aiming to achieve "co-existence and co-prosperity" and to work in collaboration with them to provide customers with considerate and attentive services. Despite changes in the business environment, this corporate attitude has remained unchanged to the present day.
CSR Supply Chain Management (List of Action Goals)
Collaboration with business partners in supply chains
Sustainable and safe products with high quality cannot be produced by our company alone. The collaboration of all business partners is essential. To ensure the steady expansion of our business into the future, we must strengthen our cooperation with a variety of partner companies in Japan and abroad.
Flow of product supply from purchasing to sales
For sustainable procurement of raw materials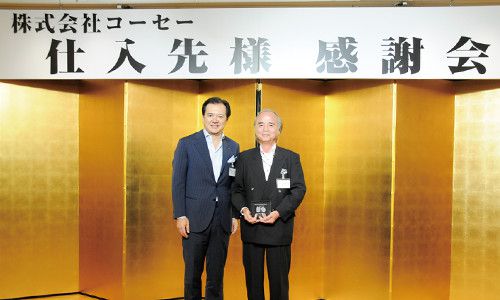 To provide customers with products that they can use safely, we promote socially and environmentally conscious CSR procurement. We organize meetings with individual suppliers of raw materials and containers of cosmetic products twice a year to share information in order to improve mutual understanding. In these meetings, we confirm their commitment to addressing issues related to the environment and human rights, offer our proposals on raw materials, and share information on market conditions. These meetings contribute not only to improving the quality of raw materials and streamlining procurement but also to promoting mutual development. Collaborative efforts through these meetings include joint development of environmentally friendly plant-derived resin and paper containers.
We also organize a meeting to explain our procurement policy once a year. At this meeting, to express our appreciation we award suppliers who have significantly contributed to improving business performance, quality, and environmental consciousness. At the meeting for fiscal 2014, which was attended by representatives of more than 60 suppliers, we asked for continued cooperation in improving quality, addressing environmental issues, and promoting CSR-conscious activities.
Basic Procurement Policy (Procurement of Materials)
Cooperation in contract manufacturing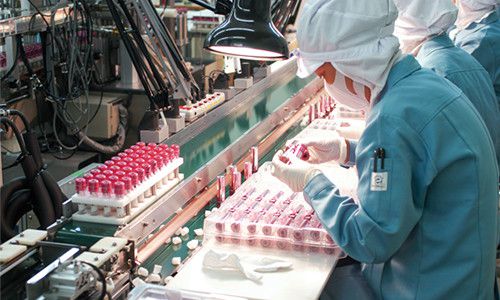 It is the most fundamental requirement for external contract manufacturers both in Japan and abroad to meet KOSÉ's high quality standards at all times. To ensure this, we operate an established system to maintain collaboration between KOSÉ and contract manufacturers. Before signing a new contract with an external manufacturer, we inspect the environment of its factory and its manufacturing process with reference to the GMP standards to ensure hygienic production. We also conduct a regular quality audit. Through collaboration with contract manufacturers to maintain high quality, we seek to achieve mutual development.
Efforts in logistics activity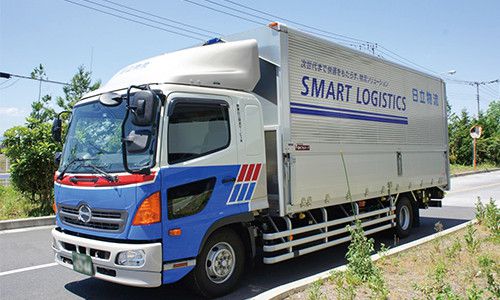 As part of its business structural reform, in October 2011, KOSÉ started outsourcing all of its logistics activities in Japan, which had been carried out internally, to Hitachi Transport System, Ltd. and Hitachi Collabonext Transport System Co., Ltd. This has enabled us to improve management efficiency and the quality of logistics activities, respond promptly to any change in logistics needs, and reduce environmental impact through the streamlining of logistics. Significant improvement in efficiency has been made, for example, through the joint use of chartered flights with other companies in the same industry and the improvement in loading efficiency of delivery vehicles heading toward distribution centers throughout Japan. Data on greenhouse gas (CO2) emissions have been included in the CSR Report in the section on the KOSÉ Group's environmental impact since fiscal 2014.
For the sake of the global environment "Efforts at offices, logistics operations, and shops"
At the "Cosmetics Logistics Forum 21," launched in 1997, logistics departments from six cosmetics manufacturing companies get together to discuss logistics issues to achieve cooperation in ordering and delivery of cosmetic products in Japan (Hokkaido, Tohoku, Hokuriku, Chubu, Chugoku, Shikoku, Kyushu and Okinawa). The joint delivery has contributed to improving efficiency in receiving products by retailers and reducing CO2 emissions by reducing the number of trips taken by delivery vehicles. Considerations are underway to expand the coverage of this service to include more areas.
"Co-existence and co-prosperity" with retailers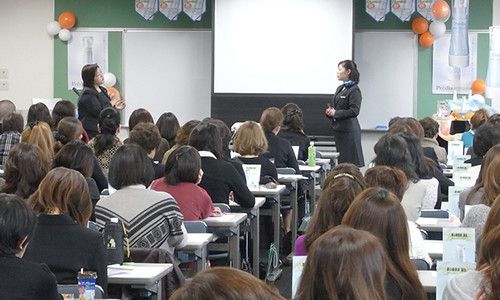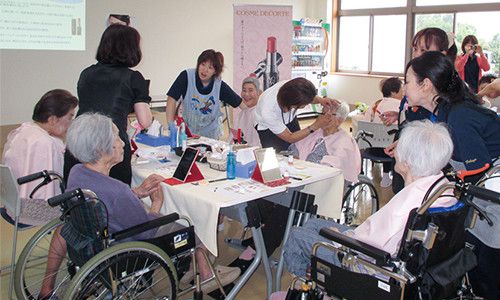 The KOSÉ Group since its foundation has maintained a system of close cooperation with retailers designed not only to provide them with products but also to support their sales efforts, for example, by sending KOSÉ's beauty staff out to stores and making proposals about in-store display fixtures. We also seek to strengthen our relationship with retailers via the KOSÉ-kai (KOSÉ Club), a nationwide organization of retailers, and through various events, such as meetings between KOSÉ's executives and the owners of retail shops. As distribution has become more diversified, sales transactions via distributors, mainly of self-service products, have been increased. However, our policy of "co-existence and co-prosperity" has not changed.
We also provide numerous seminars designed for retail shops and their staff to acquire skills for "counseling sales" in stores. Seminars for retailers include introductory training designed to improve the understanding of each brand and training to improve counseling skills for career advancement on a regular basis. Since fiscal 2013, we have offered educational support programs designed for new employees of companies and retailers with whom we deal to learn the etiquette expected of socially responsible persons as well as the beauty basics needed by professional cosmetic specialists to help them become highly professional at an early stage of their career.
Retailers are important partners who help us build close relationships with local communities. One example of joint efforts with retailers is makeup sessions for elderly people. The KOSÉ Group will continue its efforts to build relationships of trust with our business partners and pursue highly customer-oriented hospitality based on our established beauty skills.