Priority Issue 1

Together with Customers
KOSÉ creates beauty with the highest priority on safety and security.
Since its foundation in 1946, the KOSÉ Group has always placed the highest priority on providing cosmetics and services that satisfy customers by offering the best possible quality.
In providing such high-quality products and services, KOSÉ, with its focus on creating beauty, is committed to making safety and security its top priority so as to meet the beauty and health needs of its customers and help each one live a more fulfilling life.
Together with Customers (List of Action Goals)
To achieve the highest possible quality
Since its foundation, KOSÉ has focused its passion on producing the best cosmetic products through total quality management from the procurement of raw materials through to manufacturing. In line with the core message of the KOSÉ Quality Policy, established in 2010, which states that "Customer satisfaction is our priority," we are pursuing quality in both a broad and deep sense.
KOSÉ Quality Policy
"Customer satisfaction is our priority."
KOSÉ offers good products with assured security and safety.
KOSÉ pursues attractive products and the highest quality.
KOSÉ provides accurate information to build relationships of trust with customers.
KOSÉ listens to customers and uses their opinions to improve its products.
KOSÉ complies with laws and regulations governing manufacturing and services.
To ensure user safety
Customers differ in the ways and settings in which they use cosmetics, which are applied directly to the skin. KOSÉ ensures the safety of its products by maintaining its own high safety standards for everything from raw ingredients to containers and packaging. We only provide products whose safety has been demonstrated at every step through repeated review and confirmation by the Quality Assurance Department and the Development Department. The final products undergo rigid testing under the various possible conditions that customers may use them and are put on the market only after their safety has been confirmed.
Quality assurance in the development process of new products sold by the KOSÉ Group
System to respond to customers in a genuine manner
The KOSÉ Group considers the starting point of its relationship with customers to be the time at which a product is manufactured. We keep samples of all products manufactured during the same period to continuously confirm their safety so that we can ensure quality. Our Customer Service Center, meanwhile, responds to customer inquiries and requests in a genuine manner and enters them into the Smile Data System as useful information. We promptly share the information in the data system throughout the company so that it may be used to improve product quality and services with the aim of enhancing customer satisfaction and trust.
KOSÉ Group Product Quality Assurance System
Response to unexpected events
If a quality-related problem caused by an unforeseen accident or other problem that may result in product liability claims or in which criminality may be involved is detected by any department of the KOSÉ Group, it is required to be reported immediately to the Quality Assurance Department. The Quality Assurance Department determines the level of seriousness of the incident in terms of product liability, health hazards, the possible spread of damage, and other factors. If the quality-related problem is determined to be serious, it is immediately reported to the Risk Management Office and necessary measures are taken on a company-wide basis, including at the executive level, to address the case.
To ensure better safety and quality
With the highest priority on safety, the KOSÉ Group develops cosmetics (including quasi-drugs) without conducting animal experiments.
We ensure the safety of cosmetic products according to our own standards, which are based on the huge amount of safety data that have been accumulated in the development of cosmetics to date. We also use alternative methods to animal testing and conduct various tests on humans to ensure safety. We, including our contracted testing facilities, will continue to develop non-animal-tested cosmetic products.
*This does not apply in cases where we have a safety obligation to conduct animal testing or where, as in the case of some countries, we are required to use animal models by a government agency.
The quality expected from cosmetics varies depending on the needs of customers, the advancement of science and technology, market factors, the social environment, and other factors. In order to foresee these trends and provide the desired quality, we actively undertake a wide variety of activities, including our involvement in the ISO (International Organization for Standardization) Technical Committee on Cosmetics and the Health Labour Sciences Research on the Development of New Testing Methods for Safety Assessment.
Regarding the discontinuation of animal testing as an important task for the international community, KOSÉ has been engaged in the development of alternatives to animal experiments since the 1990s with the hope of achieving the discontinuation of animal testing at the earliest possible time. We will focus more efforts on developing and spreading alternative methods, including ongoing collaboration with the Japanese Society for Alternatives to Animal Experiments and active involvement in joint efforts with industry, academia and government agencies.
News releases related to the Japanese Society for Alternatives to Animal Experiments are shown below.
The 25th Annual Meeting of the Japanese Society for Alternatives to Animal Experiments, news related to alternative skin irritancy tests(JP)
The 27th Annual Meeting of the Japanese Society for Alternatives to Animal Experiments, news related to alternative skin sensitization tests(JP)
To meet and exceed the expectations of our customers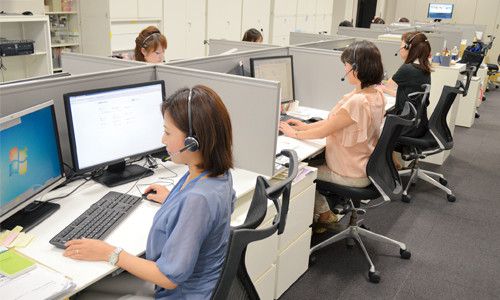 Our Customer Service Center aims to provide services that exceed our customers' expectations with the emphasis on "attentive listening," "empathy," "promptness," and "trust." To do this, we regularly conduct customer satisfaction surveys and provide Customer Service Center staff with training to improve their skills to meet customer expectations. In 2014, Customer Service Center staff participated in the Corporate Telephone Operator Contest in the Tokyo-Chuo Region sponsored by the Japan Telecom Users Association and received the Encouragement Award.
We have established a system to share the "knowledge of customer service" that has been accumulated at the Customer Service Center throughout the KOSÉ Group, including affiliate companies. Basic knowledge related to products, such as ingredients, effects, containers and quality, along with sample questions and answers, advertisement information, and other information is integrated in the system and shared among employees via the intranet website. This system helps employees provide satisfactory responses not only to inquiries and requests received by the Customer Service Center but also by retailers and other business partners.
System to gather opinions from an extensive range of customers in order to incorporate them in products and services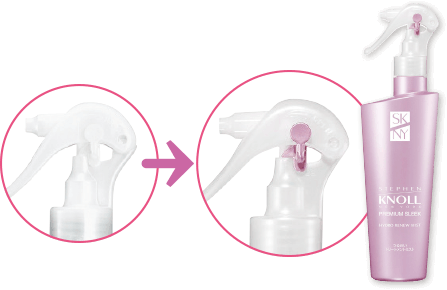 Customer opinions, which we consider a valuable resource, are shared in real time via the internal Smile Data System so that we can respond to them promptly. The Customer Service Center organizes and analyzes opinions received and regularly reports them in the form of the SMILE REPORT to the relevant departments. We use these opinion reports to improve our products and services to better satisfy our customers.
One such example is the change made to Hydro Renew Mist from the hair care brand Stephen Knoll. After the launch of the product, we made a minor change so that it can be sprayed by tilting the stopper at the top of the product instead of removing it. However, we received feedback that the stopper is hard to identify, because both the stopper and the part surrounding it are white. We therefore now use a different color for the stopper so that it can be easily identified visually. We also added a diagram showing how to remove the stopper.

Braille stickers available for free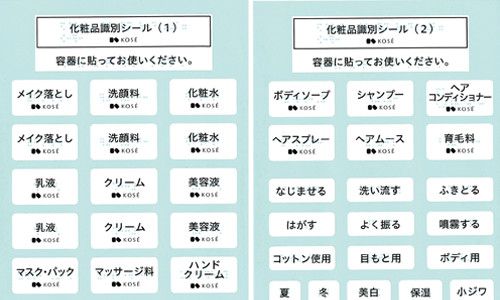 "Braille stickers" on which a cosmetic product's name and instructions for its use are printed in Braille characters and large-font characters have recently been made available for visually impaired customers for free. These stickers can be placed on the container of individual products. Please contact KOSÉ's Customer Service Center to receive the stickers.
(Toll-free number:0120-526-311)

Use of Braille on the outer packaging of products
KOSÉ COSMEPORT CORPORATION has been promoting the adoption of universal design to make its cosmetic products more identifiable and usable. Their efforts include the use of Braille on the outside packaging of as many products as possible to make it easier for visually impaired customers to identify products.
Braille is currently used for major brands, such as softymo, SALON STYLE, and MOISTURE MILD, to provide information about the product type, such as "mousse," "facial cleansing," and "makeup removal." It is planned to use Braille on more product items in the future.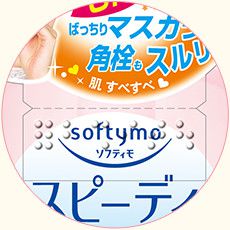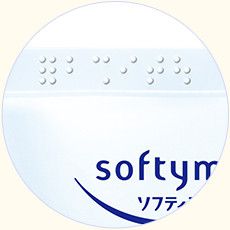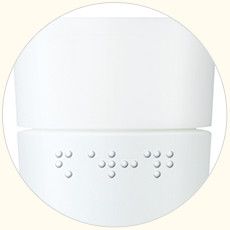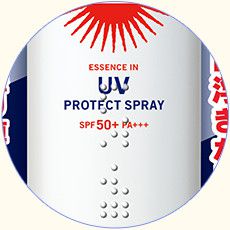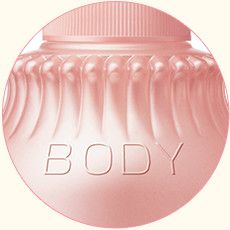 Color universal design for products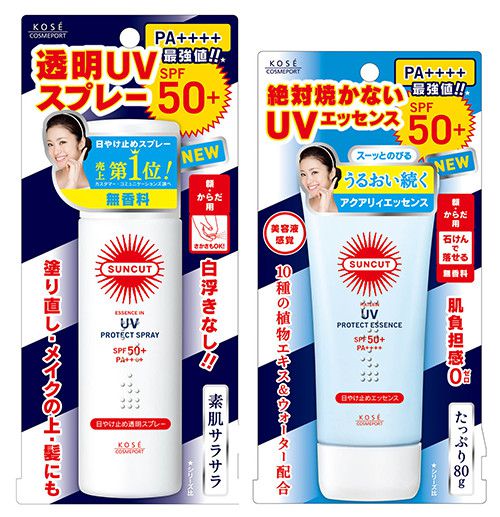 One of the universal design elements adopted by KOSÉ COSMEPORT CORPORATION is "color universal design" for partially color-blind people. This is currently adopted for products in the "SUNCUT" series, which received the Accessible Design Package Award in the Japan Packaging Contest 2009.