The KOSÉ Group's employees are committed to ethical action based on the "mind to follow the right path" and always searching for what is right. Our aim is to remain an honest and trustworthy company that is respected by our customers and the public at large. We will do this by complying with laws, regulations, and social norms and respecting the human rights of everyone who is involved with the KOSÉ Group.
CSR Policy (List of Action Goals)
Establishment of the corporate governance system
Corporate Governance (Corporate Information)
KOSÉ Group Action Guidelines and Code of Conduct
The KOSÉ Group defines its "Behavioral Charter" and "Code of Conduct" (shown below), in the "KOSÉ Group Action Guidelines." The Guidelines stipulate that employees are required to comply with laws, regulations, and social norms, and should at all times make decisions and act with honesty and good sense. They also encourage employees to make efforts to ensure they will continue to be trusted by the public. The Guidelines are used as an educational material in personnel training for new employees in Japan. Moreover, they are available in five languages for distribution to local employees at overseas offices.
KOSÉ Group Code of Conduct
1. We comply with laws and regulations and pledge to conduct the following corporate operations in the relationship with our customers and suppliers:
We provide excellent and safety products.
We provide appropriate information and services.
We never individually open the gate for advantage making use of any position in our group or never compel this in the relationship with our suppliers.
2. We comply with laws and regulations and pledge to conduct the following corporate operations in the relationship with our communities and society:
We improve better transparency about our corporate management and business operations, disclose prompt and appropriate corporate information and perform our accountability as a corporation for our customers, shareholders, investors and communities as well as society in general.
We thoroughly perform appropriate management and control for our corporate information and customer data.
We strive to promote and engage environmental conservation in any processes of development, manufacturing, distribution and disposal as well as we develop ecological products and make efficient use of energy and resources.
We appropriately exploit our intellectual property and endeavor to protect the right.
We maintain healthy and sincere relationships with our government and administration.
We never conduct any antisocial act. We also take our resolute stance in dealing with any unsocial pressure.
We respect customs and culture in all countries and regions and comply with these laws and regulations in the country and the region.
3. We comply with laws and regulations and pledge to conduct the following corporate operations in the relationship with in-house and our employees:
We comply with in-house regulations and rules.
We always endeavor to maintain our healthy office environment, respect each human right and never conduct any behavior related to any discrimination.
4. We take leadership in fostering to comply with laws and regulations.
Top executives identify their own roles to realize Spirit of this Charter and enhance these on their own initiatives as good example.
We establish our compliance committee, always grasp internal and external opinions, deepen mutual communication and conduct to improve our effective in-house systems.
Awareness raising of risk management and compliance
Our Group has established and maintains a Risk Management and Compliance Committee. We also provide compliance training on a regular basis. In fiscal 2014, training on the protection of personal information and preventing leaks was delivered through e-learning to employees of 11 major Group companies in Japan as well as local employees at eight overseas sites (100% of the target audience, excluding those who were absent from work). This training program was also provided to employees at manufacturing sites using a written textbook instead of digital materials. To raise awareness among beauty staff throughout Japan, we include information on common issues involving the handling of personal information in printed training materials that are issued six times a year. We also have a social media policy, based on which we provide education to employees.
Social media policy (Products and Beauty)(JP)
Information security
With the increased adoption of information technology, it has become increasingly important to protect personal information. Recognizing that the protection of personal information is an important risk management issue, in fiscal 2014 we updated the Management Regulations for Personal Information Protection, which were developed in 2005, to take account of current conditions. More specifically, we have strengthened the management system by creating a new position of Personal Information Manager, prepared a personal data register, revised the management manual and the reporting route for reporting security breaches concerning personal information, and placed emphasis on ensuring the implementation of the revised regulations. We are making sure that all employees are fully informed of and will implement appropriate management of personal information.
Personal Information Management System
Appropriate information disclosure to investors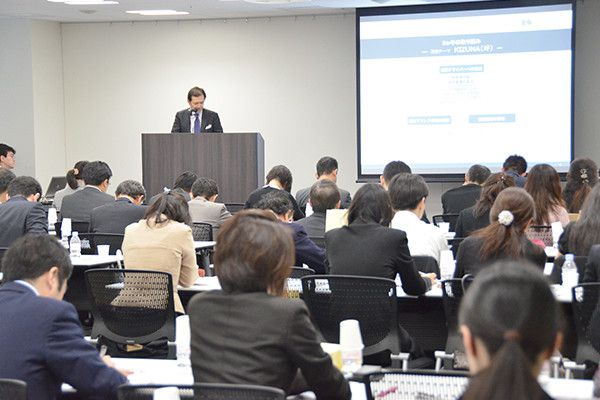 We hold a financial results conference for institutional investors and analysts twice a year. We also provide IR seminars for women. The objective of our IR activities is to gain the understanding and trust of shareholders and investors through appropriate information disclosure.
Efforts to Prevent Bribery
The KOSÉ Group has developed the "KOSÉ Group Guidelines for Preventing Bribery" with reference to the Guidelines to Prevent Bribery of Foreign Public Officials issued by the Ministry of Economy, Trade and Industry. At all of its sites in Japan and abroad, the KOSÉ Group promotes voluntary efforts based on its Guidelines to prevent any bribery of foreign public officials. We are committed to complying with laws and regulations and to under no circumstances offering bribes to foreign public officials.